1999 Inductee Scotty Morrison is flanked by fellow inductees Wayne Gretzky and Andy Van Hellemond during a pre-game ceremony prior to the 1999 Hockey Hall of Fame Game.
(Dave Sandford/HHOF)

1999 was a spectacular year for the Hockey Hall of Fame. That was the year that Wayne Gretzky was inducted into hockey's hallowed hall. But for Scotty Morrison, it was an event that he regards as the pinnacle of his hockey career.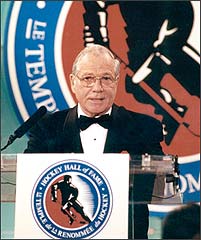 Scotty Morrison was inducted into the Builder Category of the Hockey Hall of Fame in 1999. (Dave Sandford/HHOF)





"It was something totally unexpected," admits Morrison, who had retired as chairman of the Hockey Hall of Fame after two decades as the National Hockey League's referee-in-chief. "We knew that Wayne Gretzky's induction was coming up. We wondered what was going to happen. We suggested enlarging the size of the celebration, but to Wayne's credit, he didn't want anything to change. He didn't have to wait the obligatory three years before being inducted." In fact, 99 was the final player allowed to be inducted before that three-year period had elapsed.

Scotty never dreamed that he was going to be included in the Induction of 1999. "I remember getting the call from (Selection Committee chairman) Jim Gregory and (Hockey Hall of Fame chairman) Bill Hay. It was a tremendous thrill! You never plan on it, but when that call comes, wow! It's something you never, ever forget."

That year, three Honoured Members were added to the Hockey Hall of Fame — Wayne Gretzky in the Player Category, Scotty Morrison in the Builder Category and Andy Val Hellemond, whom Morrison had hired, in the Officials Category. "I used to kid Andy Van Hellemond. I'd say, 'You know what you and I are, don't you? We are the answers to the trivia question, 'Who were the other two people inducted (into the Hockey Hall of Fame) with Wayne Gretzky in 1999!''"
| | | |
| --- | --- | --- |
| | | |
| In October of 1991 Scotty Morrison was named Chairman of the Hockey Hall of Fame and Museum. (HHOF) | | Scotty Morrison served as Referee-in-Chief of the NHL and later was made an officer of the league and Vice-president, Officiating. (Graphic Artists/HHOF) |
Kevin Shea is the Editor of Publications and Online Features for the Hockey Hall of Fame.