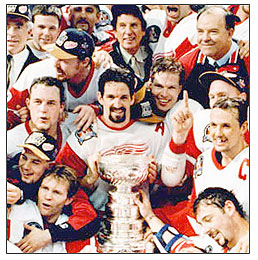 (Top Centre) Illitch and the Detroit Red Wings celebrate after defeating the Philadelphia Flyers in the 1997 Stanley Cup Finals. It was the club's first championship in 42 years.

A sportsman at heart, Mike Ilitch purchased the Detroit Red Wings in 1982. Hiring Jimmy Devellano, who had helped create the New York Islanders' dynasty, the franchise took its first steps towards legitimacy in many years by selecting Steve Yzerman with their first pick in the 1983 NHL Entry Draft.

Fan interest was steadily revived by icing a competitive team, and in 1987 and 1988, Detroit reached the Stanley Cup semi-finals. Then, in 1989, the Red Wings made several key selections from Europe in the NHL Entry Draft. They added Sergei Fedorov, Vladimir Konstantinov and Nicklas Lidstrom. Within a few years, all three were playing key roles in the Red Wings' roster.

Under newly-hired head coach Scotty Bowman, the Wings reached the Stanley Cup final in 1994, although they were defeated by the New Jersey Devils. But as has been exhibited by so many teams, sometimes you have to lose in order to learn to win.

Adding Igor Larionov and Slava Fetisov to the line-up gave Detroit an extraordinary Russian quintet of new acquisitions as well as Fedorov, Konstantinov and Slava Kozlov. Brendan Shanahan was picked up from Hartford and Larry Murphy from Toronto. In the spring of 1997, the Detroit Red Wings swept the Philadelphia Flyers to collect the Stanley Cup for Detroit for the first time in forty-two years.

Mike Ilitch was ecstatic. He told the Detroit Free Press, "This is the hardest job I've ever had in my life. Sometimes I wondered if we'd see it through to the end. But one of my strengths is perseverance and we hung in there."

Kevin Shea is the Editor Publications and On-Line Features for the Hockey Hall of Fame.