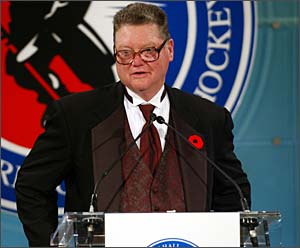 In November 2003 Kilrea was inducted into the Hockey Hall of Fame in the Builder Category. Earlier in the year Kilrea proclaimed the announcement of his induction as "The proudest moment of my life." (Dave Sandford/HHOF)

2003 was an extraordinary year for Brian Kilrea. In March, he earned his 1,000th victory as coach of the junior Ottawa 67's. So impressive has Kilrea been as a junior coach, beginning in the 1974-75 season, that in 2003, the CHL named its coach of the year award after the jovial gentleman. But that same year, Brian Kilrea was also elected to the Hockey Hall of Fame in the Builder category.

"I never even thought of it," says an incredulous Kilrea. "The people that I idolized were in the Hall of Fame. I knew that, as a player, there was no way I was going to get in the Hall of Fame, but I was so proud that fellows I liked so much like Gordie Howe and Ted Lindsay were in the Hall of Fame. And when I was playing in Ottawa, I used to go into Montreal and see the great Jean Beliveau and 'Rocket' Richard."

Kilrea's coaching career can be best described as a combination of success and tenacity. Modestly, Brian defers, saying, "It was just that I was here so long that it gave me some recognition and they inducted me into the Hall of Fame." But Kilrea is far too modest. Now into his thirty-first season coaching the Ottawa 67's, Brian has led the team to two Memorial Cup championships, another Memorial Cup final and to four league championships. He has been selected as the OHL's coach of the year four times, and as the CHL's best coach once.

But more importantly is the impact Kilrea has had on the boys he has coached through the years. "When I look back at people who really affected my life, I think of people like my father, my brother and Brian Kilrea," admits Doug Wilson. "Brian has been such a successful junior coach because he can motivate players, he can teach them and he can be a disciplinarian while at the same time, being someone they can talk to," says Peter Lee, another former 67's star. Brad Shaw, a former captain under Kilrea, adds, "The whole time I was with him (on the 67's), he got the best out of every player. There wasn't one guy who didn't want to play for him."

Brian Kilrea looks at being named to the Hockey Hall of Fame with great respect. "To me, that's the highlight of my life and career. I thank all the voting members for giving me such a great privilege."

Kevin Shea is the Hockey Hall of Fame's Editor of Publications and Online Features.