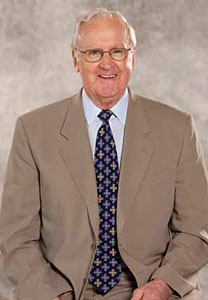 Murray Costello served as President of the Canadian Amateur Hockey Association between 1979 and 1998. (Hockey Hall of Fame)

Following his career in the National Hockey League, Murray Costello worked in a number of capacities within the hockey world, but he considers the pinnacle was presiding over the Canadian Amateur Hockey Association (CAHA), now known as Hockey Canada, from 1979 until 1998.

The CAHA was the national governing body of amateur hockey in Canada from 1914 until 1994 when the organization merged with the Canadian Hockey Association (CHA), later to be known as Hockey Canada.

The two streams competed for recognition in Canadian amateur hockey. Along with the CAHA executive, Costello realized that amateur hockey would be more effective by merging the two organizations and brought the entire Canadian development program into one stream. In July 1994, the Canadian Amateur Hockey Association and the Canadian Hockey Association merged to form Hockey Canada. At the time, 4.5 million Canadians were involved in amateur hockey, whether as players, coaches, officials, administrators or volunteers.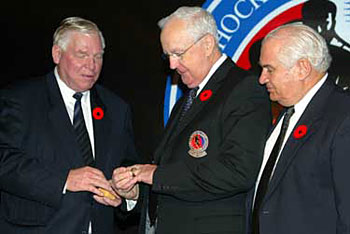 Murray Costello receives Honoured Members ring from Chairman of the Hockey Hall of Fame Bill Hay and Chairman of the Selection Committee Jim Gregory. (Dave Sandford/Hockey Hall of Fame)

The responsibilities of Hockey Canada range from rules and regulations for all ranks of hockey, from kids playing on their first organized team all the way up to hockey played at the Olympic Winter Games.

During his tenure as the first full-time president, Costellowas instrumental in implementing a number of initiatives that continue to impact on the game at all levels in Canada to this day. He was the driving force behind Hockey Canada's Program of Excellence in men's and women's hockey. On the men's side, his efforts helped leadto the World U-17 Challenge, the National U-18 Program and the National Junior Team Program. On the women's side, the Program of Excellence now consists of the National U-18 Championship, the National U-22 Team Program and the National Women's Team Program.

"Murray was a tremendous positive influence on hockey in Canada at all levels," stated Bob Nicholson, the current president of Hockey Canada. "Through his leadership, the foundation was established for most of Hockey Canada's programs, from the highly successful high performance programs all the way through the grass roots programs." Nicholson added, "He always paid tribute to the volunteers and their role in developing our game. I believe that this is a large part of his legacy to the game of hockey in Canada. Hockey Canada continues to follow the example that he set."

Kevin Shea is the Editor of Publications and Online Features for the Hockey Hall of Fame.