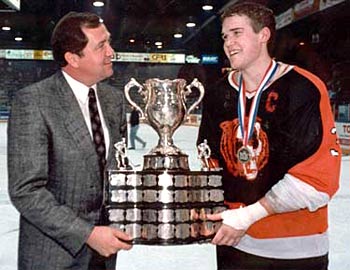 In 1988 President of the Canadian Hockey League, Ed Chynoweth had the honour of presenting his son Dean Chynoweth, captain of the Medicine Hat Tigers with the Memorial Cup trophy. (Chynoweth Family)

While Ed Chynoweth was inducted into the Hockey Hall of Fame posthumously, few would argue that the pinnacle of his career was an intensely personal one as opposed to any number of awards and successes he enjoyed through his long, productive career as the president of both the Western Hockey League and the Canadian Hockey League.

Ed and his wife Linda have two sons who excelled in the hockey world. Dean Chynoweth played with the WHL's Medicine Hat Tigers between 1984-85 and 1988-89, later enjoying a nine-season NHL career with the New York Islanders and Boston Bruins. He returned to the WHL to first coach Seattle and later, Swift Current. Jeff Chynoweth has spent more than a quarter-century in various WHL capacities, beginning with Spokane in 1986-87 and including stops in Medicine Hat, Brandon, Lethbridge and Red Deer. In 1995, he joined his father with the Calgary Ice and has been with the franchise, now known as the Kootenay Ice, since. In 2004-05, Jeff Chynoweth was the league's Executive of the Year.

But in 1988, a most wonderful situation presented itself. As the president of the Canadian Hockey League, one of Ed Chynoweth's duties was to present the Memorial Cup to the captain of the championship team. That season, the tournament was held in Chicoutimi, Quebec, and featured the Western Hockey League champion Medicine Hat Tigers, the Ontario Hockey League champion Windsor Spitfires, the Quebec Major Junior Hockey champion Hull Olympiques and the QMJHL runner-ups, the Drummondville Voltigeurs. That year, the Medicine Hat Tigers won a second consecutive Memorial Cup championship. Ed Chynoweth called upon the Tigers' captain to accept the trophy, and at that moment, Ed was able to hand the Memorial Cup to his son, Dean — a most unique but extraordinary experience.

Kevin Shea is the Editor of Publications and Online Features for the Hockey Hall of Fame.