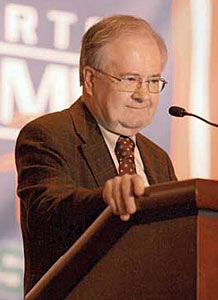 In 1975, Jim Devellano was named head scout of the New York Islanders and by the end of his ten-year tenure became the assistant general manager.
(Detroit Red Wings)

Through 45 years and counting working in the National Hockey League and having been part of seven Stanley Cup championships, Jimmy Devellano has seen the best of times and, occasionally, the worst of times. Choosing a pinnacle was not an easy task for the Honoured Member in the Builders' Category of the Hockey Hall of Fame.

"If I had to pin one down, I would tell you that it took place May 24, 1980 at about 5:00 in the afternoon at the Nassau Coliseum when the New York Islanders won their first Stanley Cup."

At that moment, Bobby Nystrom scored at 7:11 of overtime to give the Islanders a stunning 5-4 victory over the Philadelphia Flyers, winning Game Six of the Stanley Cup final to give the Islanders the franchise's first Stanley Cup championship.

"What that meant to a young boy growing up in Toronto was that I was going to get a Stanley Cup ring and I was going to get my name on the Stanley Cup," he explains with great delight. "What young hockey kid in Canada doesn't dream of those things?"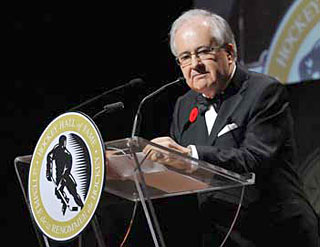 2010 Hockey Hall of Fame Inductee Jimmy Devellano speaks at the podium after being inducted into the Hockey Hall of Fame. (Matthew Manor/HHOF)

Jim held the position of Head Scout and had contributed significantly to a franchise that played its inaugural game in 1972, had reached the semi-finals in 1978 and 1979 and in 1980, carried the Stanley Cup around their rink to the absolute delight of their hometown fans.

For a man who willed his way into a career in hockey, Devellano has enjoyed enormous successes. "That was the most important because no matter what happens, my name was going to go on the Stanley Cup in 1980 with the New York Islanders as their head scout and I was going to get a Stanley Cup ring."

To date, Jimmy Devellano has won three Stanley Cup championships with the Islanders and four with the Detroit Red Wings. "We came oh-so-close to a fifth in 2009 when Pittsburgh edged us 2-1 on our ice in Game Seven. And who knows what may happen in the years ahead. We'll keep our fingers crossed." Yet, the first was the sweetest, and the pinnacle of his Hall of Fame career.

Kevin Shea is the Editor of Publications and Online Features for the Hockey Hall of Fame.