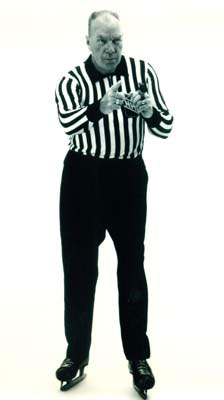 Red Storey was inducted into the Hockey Hall of Fame in 1967. (Hockey Hall of Fame)

Red Storey was quite surprised to learn that he had been elected to the Hockey Hall of Fame in 1967. After all, after nine years as one of the National Hockey League's premier officials, his career had collapsed in flames after a single game.

On April 4, 1959, during a playoff game between the Montreal Canadiens and Chicago Black Hawks, Storey didn't call what he deemed as questionable penalties. When the Canadiens won the game, the fans erupted in boos and throwing debris onto the ice while Chicago coach Rudy Pilous accused the referee of purposely missing the penalty calls. An Ottawa newspaper reporter quoted NHL president Clarence Campbell as stating that Storey had 'choked' on two incidents that should have been penalties.

Although he was scheduled to referee the final game in the series between the Maple Leafs and the Bruins, Storey quit, citing the lack of support from his boss. He never returned to the NHL.

Instead, Red embarked on quite a remarkable career as a raconteur, achieving the true pinnacle of his professional life by using his storytelling talents to cross the country, regale audiences with hockey stories and, in the process, raise great amounts of money for charities.

"It's kind of a reward because I started out poor and did well, and this is a chance to give something back," he told Brodie Snyder in 'Red's Story.' "I stopped counting a few years ago when the total of funds I'd helped raise passed $20 million."

As a professional storyteller, Storey was a welcomed guest at television and radio stations, banquets and various fundraising events. His colourful storytelling made him a hugely popular ambassador for the sport he had left behind after that game at the Montreal Forum in 1959.

Red truly enjoyed spending time with Maurice Richard after both of their careers had concluded. Storey often told the tale of The Rocket that emanated from a semi-final playoff game between Montreal and Toronto that was played March 23, 1944. Toronto's coach, Hap Day, had instructed his rugged winger, Bob Davidson, to shadow Richard. At the end of the contest, one that the Canadiens won by a 5-1 score with The Rocket scoring all five of his team's goals, Day went right over to Davidson and barked, "I thought I told you to watch Richard tonight!" Davidson shrugged and said, "I did! He played a helluva game, didn't he?"

Red was often asked for his thoughts on the greats of the game. Through the years, he compiled a list of his greatest players, although never singled out one player for the honour. According to his autobiography, 'Red's Story,' the best goalies he ever saw were Johnny Bower, Bill Durnan, Glenn Hall, Jacques Plante and Terry Sawchuk. Best defenceman? Doug Harvey, Bobby Orr, Denis Potvin, Larry Robinson and Eddie Shore. He noted that Al Arbour, Toe Blake, Scotty Bowman, Punch Imlach and Glen Sather were considered the greatest coaches. He considered Pavel Bure, Paul Coffey, Frank Mahovlich, Henri Richard and Bobby Sheehan as the NHL's best skaters. Finally, the hardest shot belonged to a group that included Tony Demers, 'Boom Boom' Geoffrion, Bobby Hull, Al Iafrate and Al MacInnis.

Before his passing in 2006, Storey commented, "It's been a great ride, and more than that. For me, sports has literally been the salvation of my life."

Kevin Shea is the Editor of Publications and Online Features for the Hockey Hall of Fame.