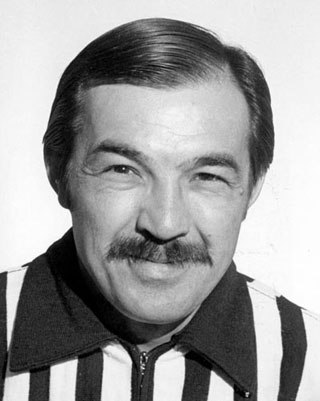 Matt Pavelich was inducted into the Hockey Hall of Fame in 1987(Hockey Hall of Fame)

After serving as a linesman for 1,727 regular season NHL games, as well as 245 post-season contests, Matt Pavelich retired from on-ice duty in 1979. In fact, his final game was also the final game played by Montreal Canadiens' netminder Ken Dryden.

On May 21, 1979, Montreal faced the New York Rangers, up three games to one in that spring's Stanley Cup final. At the conclusion of the contest, a 4-1 win for the Canadiens, who that night clinched their fourth Stanley Cup championship in succession, Ken Dryden picked up the puck as a souvenir, knowing that he was going to retire from hockey in favour of a career in law. "It was an unbelievably lucky moment," recalled Dryden. "The puck is coming to me, shot along the boards just as the game is ending. I know I'm going to be retiring, so it's perfect. I stop it, pick it up and all of a sudden, Matt (Pavelich) is right there, and he has the same thing in mind. 'Ken, Ken! Can I have the puck? It's my last game,' he tells me. I say, 'But it's mine, too!' Matt had been a linesman a lot longer than I had been a goalie. It seemed right that he have it. It was not without some anguish that I gave it to him."

The Hall of Fame goalie chuckled, "Matt and I will see each other once a year and we still talk about 'our puck.' We have a survivor's understanding: if he survives me, he gets the puck. If I survive him, I get it."

In 1987, the Hockey Hall of Fame amended its nominations to include linesmen in a category for officials that had previously only allowed referees to be considered for induction. That year, the highly-respected Matt Pavelich was the first linesman to be inducted into the Hockey Hall of Fame. He was joined that year by Bobby Clarke, Ed Giacomin and Jacques Laperriere in the Players category and John Ziegler in the Builders category. It was a fitting tribute for a terrific linesman, and the pinnacle of his professional career.

Kevin Shea is the Editor of Publications and Online Features at the Hockey Hall of Fame.