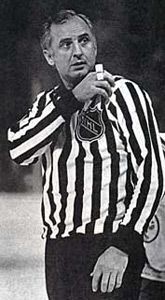 Neil Armstrong was inducted into the Officials' Category of the Hockey Hall of Fame in 1991. (Hockey Hall of Fame)

Prior to a contest between the Detroit Red Wings and the St. Louis Blues played on October 16, 1973, National Hockey League linesman Neil Armstrong was recognized with a special ceremony, commemorating his record 1,314th NHL game as an official. The game, played at Detroit's Olympia Stadium, saw Armstrong honoured for breaking the record of NHL games officiated previously held by George Hayes, also an Honoured Member of the Hockey Hall of Fame.

Armstrong went on to officiate until 1978, serving as an NHL linesman for a staggering 1,744 games, but it was the special night in his honour that was the pinnacle of Neil Armstrong's Hall of Fame career.

Kevin Shea is the Editor of Publications and Online Features for the Hockey Hall of Fame.