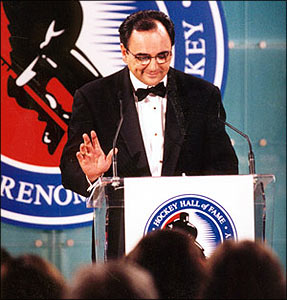 Andy Van Hellemond was inducted into the Hockey Hall of Fame in 1999. A flattered Andy Van Hellemond is seen here during his Induction speech.

Admired for the quality of his on-ice work, Andy Van Hellemond spent twenty-four years working as an NHL referee. He refereed more games during the regular season (1,475) and playoffs (227) than any other official in the NHL's history. During his tenure, he was selected as the NHL's top-rated referee an unprecedented fourteen times, worked in thirty-five games during nineteen Stanley Cup finals and was the referee in two NHL All-Star Games, as well as the 1979 Challenge Cup series and Rendez-Vous '87.

His contributions continued off the ice, too. Following his retirement from refereeing, Van Hellemond was the Senior Vice President of Hockey Operations for the East Coast Hockey League, overseeing daily operations of the league and supervising the league's on-ice officials. In 2000, Andy was named the NHL's Director of Officiating.

In 1999, the Selection Committee of the Hockey Hall of Fame made three decisions. One was to waive the three-year waiting list following retirement and induct Wayne Gretzky immediately into the Hall of Fame that year. Following an extraordinary career, there was no doubt, and the Committee also concluded that Wayne would be the last player ever to be inducted without waiting the obligatory three years after retiring. The second decision was to include Scotty Morrison as an Honoured Member in the Builder Category. Scotty had not only spent his career as an official, but had been the NHL's Referee-in-Chief, Vice President, Officiating and later, was named Chairman and Chief Executive Officer of the Hockey Hall of Fame. The third decision was to elect Andy Van Hellemond as an Honoured Member in the Officials Category.

On the evening of his induction, November 22, 1999, Andy Van Hellemond joked that one day, he'd be part of the answer to the trivia question, 'Who were the other two inductees the year Wayne Gretzky was elected to the Hockey Hall of Fame.' He concluded by thanking his colleagues for assisting him through his legendary career. "Through twenty-five years, I had a tremendous deal of excitement in my career, including many seventh games of Stanley Cup finals," he stated. "Tonight has brought me to a new level. I want to thank all the linesmen that I worked with for twenty-five years. It's a team sport and we are a team too. I appreciate their camaraderie, their support and their professionalism which helped put me here tonight in front of you. And I mean that from the bottom of my heart."

Respected and well-remembered, Andy Van Hellemond is one of the great NHL officials of all time, and an Honoured Member of the Hockey Hall of Fame.

Kevin Shea is the Editor of Publications and On-Line Features at the Hockey Hall of Fame.