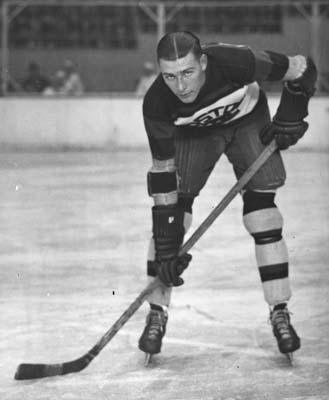 Dit Clapper of the Boston Bruins.
(Imperial Oil-Turofsky/HHOF)

There was something quite special about Dit Clapper.

His versatility allowed him to excel at both forward and defence in the NHL. Playing nine seasons at right wing, he was an All-Star in 1931 and 1935. In eleven campaigns playing defence, Dit earned All-Star honours in 1939, 1940, 1941 and 1944. This talent, as part of a hugely successful Boston Bruins club, helped that franchise finish first on six occasions and to collect the Stanley Cup in three seasons.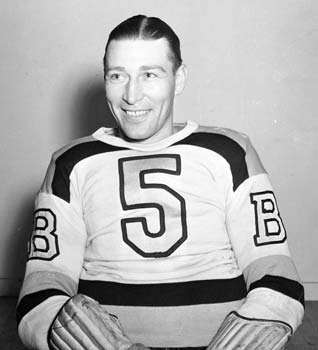 Dit Clapper of the Boston Bruins.
(Imperial Oil-Turofsky/HHOF)

But equally astonishing was the fact that Clapper played twenty NHL seasons. That milestone was absolutely unheard of at that time. When asked to what he attributed his longevity, Dit remarked, "Clean living and rest aplenty." Serving as captain of the Bruins for fourteen of those twenty seasons, Dit was the longest-serving team leader until Ray Bourque and Steve Yzerman eclipsed his record.

Realizing that his considerable talents were waning during his unprecedented twentieth season as an NHL player, Clapper decided to retire six games into the 1946-47 season. In an emotional ceremony taking place on February 12, 1947, Dit Clapper was afforded a special night at Boston Garden. The Bruins' management retired his number 5 and that night, Dit was admitted to the Hockey Hall of Fame as an Honoured Member; the august institution waiving the traditional three-year waiting period after a player's retirement for the first time.

Dit Clapper was elated to have enjoyed such a long and celebrated career, but there is no doubt that his entry to the Hockey Hall of Fame on the day of his retirement was the pinnacle of his outstanding hockey life.

Kevin Shea is the Editor of Publications and Online Features for the Hockey Hall of Fame.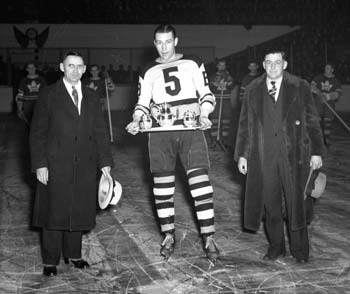 Boston's Dit Clapper recieves a silver tea set at centre ice prior to a game against the Toronto Maple Leafs.
(Imperial Oil-Turofsky/HHOF)