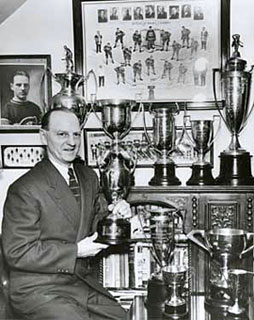 Aurele Joliat was a prolific scorer and relentless backchecker during his 16 seasons with the Montreal Canadiens. (Hockey Hall of Fame)

A Montreal sportswriter, using the colourful prose of the era, claimed that Aurèle Joliat "rolled away from 200-pounders, faded from the path of charging rivals and sidestepped and hurdled his way clear of smashing body-blows, flying elbows and jabbing butt-ends. His amazing quickness saved him from untold punishment over the years and kept him going like a brook, apparently forever."

Aurèle Joliat was called many things through his extraordinary career. Opponents would call him names not appropriate for the Hall of Fame website, as his two-handers across the ankle were legend, but fans knew Joliat as 'Mighty Atom' or 'Little Giant.'

In 1933-34, Joliat's prowess was at its peak. With him on the left side and Howie Morenz on the right, the Montreal Canadiens enjoyed the most potent duo in hockey.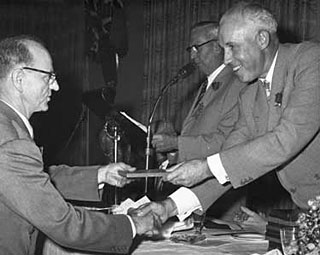 Aurele Joliat accepts his honoured members plaque from Clarence Campbell after being inducted into the Hockey Hall of Fame. (Imperial Oil-Turofsky/Hockey Hall of Fame)

Sporting his number 4, Aurèle led the team in goals with 22 and points with 37, good for eighth in the league that year. The Canadiens finished second in the Canadian Division in 1933-34. The three-time Stanley Cup champion hoped to bring the Canadiens' faithful a fourth but it was not to be. That honour went to the Chicago Black Hawks.

Aurèle Joliat was chosen for the NHL's Second All-Star Team, beaten out of the First Team slot by Toronto's Harvey 'Busher' Jackson. But more satisfying yet was being selected as the NHL's most valuable player honour, the Hart Trophy, beating out Lionel Conacher of the Stanley Cup champion Hawks.

A four-time All-Star (the awards only began in 1930-31 when he was named to the First All-Star Team), Aurèle Joliat was at his best in 1933-34, the pinnacle of his NHL career.

Kevin Shea is the Editor of Publications and Online Features for the Hockey Hall of Fame.