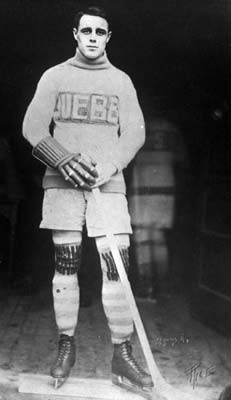 Joe Malone's NHL record of seven goals in one game has stood up for 90 years. (Hockey Hall of Fame)

On January 31, 1920, Joe Malone and his Quebec Bulldogs were facing Toronto. The Bulldogs were struggling during a campaign that would see them finish last in the four-team National Hockey League, in the league's third season of existence.

In spite of his team's woeful record (they would win but 4 games through the 20 games that made up the two halves to that season), Joe Malone was on fire. He scored an unprecedented 7 goals in the game as the Bulldogs spanked Toronto 10-6.

Malone's 7 goals set an NHL record that exists to this day, in spite of the scoring exploits of Maurice Richard, Gordie Howe, Bobby Hull, Wayne Gretzky, Mario Lemieux, or Alex Ovechkin.

Malone almost duplicated his record later that season, by the way. He scored six goals when Quebec defeated Ottawa 10-4 on March 10, 1920.

Joe Malone went on to lead the NHL in scoring during 1919-20. He scored 39 goals and added 10 assists for 49 points, three more than Montreal's Newsy Lalonde, to earn the scoring title.

Kevin Shea is the Editor of Publications and Online Features for the Hockey Hall of Fame.