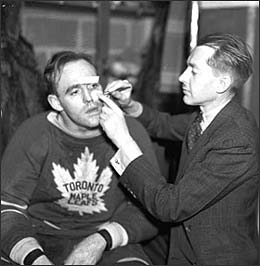 Although only 5'7", King Clancy was filled with fight and never backed down from an opponent who wanted to loosen the puck (and often the teeth) from Toronto's rushing defenseman.

The 1931-32 season held much promise for fans of the Toronto Maple Leafs as they sat watching their team on opening night, wide-eyed and astonished, gazing at the opulence of their magnificent new arena. But Maple Leaf Gardens didn't deliver a win in that debut, sending the opposing Chicago Blackhawks home with a 2-1 win.

The Maple Leafs concluded the 1931-32 regular season campaign finishing second in the NHL's Canadian Division, collecting 53 points to 57 for the Montreal Canadiens. Yet, behind the incomparable Kid Line of Charlie Conacher, Busher Jackson and Joe Primeau, the Leafs led all eight NHL teams in offensive categories. Their 155 goals scored was thirteen better than the explosive Montreal Maroons, who finished second in that category. Busher Jackson won the scoring race with 53 points; three better than his centre, Joe Primeau. Right winger Charlie Conacher fired a league-best 34 goals and only Howie Morenz's 49 points separated Conacher from finishing one-two-three with his linemates. "There were many wonderful lines in hockey, but to me, the most colourful of them all was the Kid Line of (Charlie) Conacher, (Joe) Primeau and (Busher) Jackson," related King Clancy in his autobiography, 'CLANCY.' "Unlike Joe, who was a lightweight, Charlie and Busher were powerful men. I knew Conacher better than Jackson and I never had a finer friend than Charlie. He was my protection when I was a Maple Leaf. I wasn't very big and not too good with my mitts, although I tried to win many a battle. Conacher was Toronto's policeman for many years and a great one. He didn't go looking for trouble, bit if it came along, he would clear it up."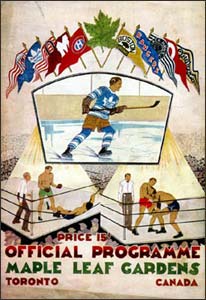 This program, dated April 9, 1932, was witness to the third and final game of the season. That night, the Toronto Maple Leafs defeated New York's Rangers 6-4 to capture the Stanley Cup. It was the first of eleven for the Maple Leafs.

The Leafs faced Chicago in the quarter-finals, outscoring the Blackhawks six goals to two in the two game, total goal series. The Leafs then edged the Montreal Maroons four goals to three in the two game, total goal semi-final.

The Stanley Cup was decided in a best of five final between Clancy's Maple Leafs and the New York Rangers. Game one saw Toronto outscore the Rangers 6-4 in New York. Game two was moved to Boston from Broadway because Madison Square Garden had been previously booked for the Ringling Brothers Circus. At the Boston Garden, the Leafs spanked the Rangers 6-2.

Up two games to none, Conn Smythe strode into the home dressing room at Toronto's Maple Leaf Gardens on April 9, 1932 and addressed his team. "I remember so vividly Mr. Smythe coming into the room at the Gardens and saying to us, 'Fellows, if you win this game tonight, you win the Stanley Cup. If you lose, it means at least one more game and another big gate here. Now, I want to make it perfectly clear what I want you to do. I want you to go out there and prove to the people of the world that hockey is played on a high plane; that it's strictly on the up-and-up. You show them there's no monkey business in our sport. I want you to win this hockey game tonight. If you lose, sure it's more money in the till for me, but I'm telling you, I won't tolerate a loss tonight. I want a championship and I want that Stanley Cup.'"

All were highly motivated by the Major's impassioned plea. "He gave us such an inspirational pep talk that I now remember it as one of the most meaningful speeches he ever made," noted King. "We beat New York 6-4 in that final game and so won the Stanley Cup the first year we were in the Gardens. It was also the first time a team had won the Cup in three straight games. Some smart newspaperman called it the tennis series, because the scores were 6-4, 6-2, 6-4," chuckled Clancy.

The Toronto Maple Leafs had decisively won the franchise's first Stanley Cup championship. Although awarding Stanley Cup rings had not yet become fashionable, each member of the victorious team received a gold medallion that served as a lifetime pass for all events staged at Maple Leaf Gardens. The members of the Maple Leafs met their adoring fans in a parade that featured the players riding on a firetruck. There, kibitzing in front of enthusiastic cheering sat Charlie Conacher with pal King Clancy, waving to their fans as they lined the streets near Maple Leaf Gardens. Both were later named to the NHL's Second All-Star Team for their performances during the 1931-32 season.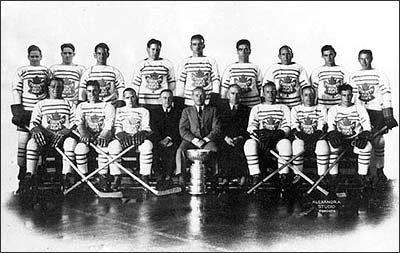 The victorious Toronto Maple Leafs pose with their hard-earned silverware after winning Lord Stanley's Cup in 1932. Charlie Conacher is seated far left with Joe Primeau beside him. Busher Jackson, the third member of the Kid Line, is seated extreme right. King Clancy is seated third from the left, beside Primeau.
Kevin Shea is the Manager of Special Projects and Publishing at the Hockey Hall of Fame.