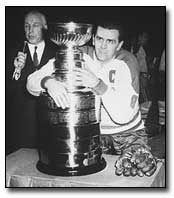 (May 13, 2002) -- Rocket Richard's accomplishments are the stuff of legend. He more than any other, established personal records for future NHLers to chase, and he, more than any other, was the first French-Canadian hero for the people of Quebec. He was not the first superstar in hockey, and certainly not the last, but by the time he retired in 1960 he had made an irrevocable connection from the pre-war days of the NHL to the post expansion days following 1967.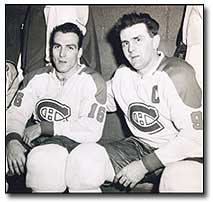 He was the first man to score 50 goals in 50 games, during the 1943-44 season, an accomplishment that went unmatched for some 15 years. Yes, it was against inferior goaltending, the best having gone off to war, but if scoring became so easy with lesser cage custodians, why didn't anyone else score 50 in 50?

Richard played in just 133 playoff games, not many considering he played in 16 playoff seasons. Today, you could comfortably double that number. Yet his six career overtime goals has yet been equalled by even the Gretzkys, Lemieuxs, and Orrs, of the modern game.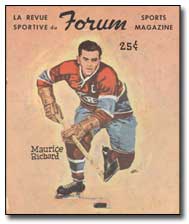 Amazingly, he never scored 100 points in a season and retired with fewer than 1,000 career points, but his 544 career goals today seems like nothing compared to the incredible achievement it was in 1960. Consider: he broke the old record of 324 set by Nels Stewart, an improvement of around 70%. Put that into perspective. Gordie Howe had 801, so for Gretzky to have equalled Richard's margin of improvement, he would had to have retired with 1360 goals!
The 1959-60 season was special for Richard. Although it turned out to be his final NHL season, there was no "this is my last game" ceremony from him before or even after that Stanley Cup win.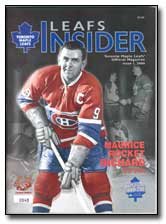 He was 38 years old and had scored just 19 goals in the regular season. He was overweight and injured and feeling slow. But he had captained what many consider to be the greatest team of all time. In 1960, Montreal won its fifth straight Stanley Cup, the first and still only team to do so. Richard was a leader because he was there. He led with his eyes and intensity and pride. Even if he didn't play a shift, he still would have been one of the reasons the team won. He defined that 1955-60 dynasty. He controlled it and shaped it and willed it to win year after year.
But what people today don't know is that after that win, he did not retire. He did not say goodbye and sayonara. Over the summer, he turned 39, and in September he went to another Montreal training camp. It was only then, on September 14 after a few days of practise, that the pride overtook the desire. The Rocket retired to private life, which for him meant the usual daily celebrity in Montreal, just without the skates and stick.
- Andrew Podnieks is the author of numerous books on hockey including the current The Essential Blue & White Book. He is also a regular contributor to Leafs.com and managing editor of A Day In The Life of the Leafs to be published in the fall of 2002.