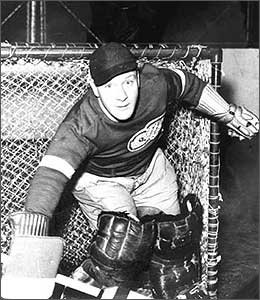 When asked to name the best netminder he faced
during his twelve-year NHL career, Red stated, 'Normie Smith of the Wings.' Smith backstopped Detroit to Stanley Cup championships in 1936 and 1937.

(December 30, 2003) -- At ninety-four, Red Horner is the oldest living Honoured Member in the Hockey Hall of Fame. And that mantle alone allows a perspective on legendary players that most have only heard or read about.

Horner could cite any number of occasions as highlights in a spectacular career. Perhaps it would be his first game, or winning the Stanley Cup with Toronto in 1932. He could go in a different route and choose his involvement in a game December 12, 1933 in which a hit by Eddie Shore ended Leaf star Ace Bailey's career. Horner immediately attacked Shore, knocking him unconscious. Red was suspended for six games; Shore for sixteen. Bailey never played again. Or maybe it was the distinction of being the NHL's 'bad boy,' leading the league in penalties for eight seasons between 1933 and his retirement in 1940.

Instead, Red Horner takes a different approach. His highlight, in his words, was "playing with some of the greatest who ever played the game."

In goal, Horner had just one suggestion. "The goaltender for Detroit - Normie Smith." Smith led the Red Wings to back-to-back Stanley Cup championships in 1936 and 1937. In 1935-36, Smith won more games than any other netminder (24), then led the NHL with 25 in 1936-37, a season in which he also won the Vezina Trophy and was named to the NHL's First All-Star Team.
Proud to have played with and against some of the greatest ever to play in the NHL, Horner hails Howie Morenz as the best forward he ever challenged.

At forward, Red names three players who went on to be elected to the Hockey Hall of Fame. "I remember playing against Howie Morenz. He was with Montreal. He was one of the greatest I ever played against. Milt Schmidt from Boston's Kraut Line was a great player, too. For us, Harvey Jackson was a great player in his day. It was great to watch the Kid Line and playing defense with them, King (Clancy, Horner's defense partner) and I".

Horner was always identified as one of the toughest players in the NHL, but he too had players he found difficult to defend against. "The toughest player was Hooley Smith. He always had his stick up in your face when he was coming in."

As far as fellow defensemen, Horner names some of the greatest ever to patrol the blueline. "When I first started it was (Taffy) Abel and (Ching) Johnson with New York. They were tough. Eddie Shore was a great defenseman. When they had an exhibition game for Bailey (after suffering severe injuries in an on-ice incident with Shore that ended his career), Shore was invited to come and play. We shook hands that night. They had stars from all the teams come and play against us (the Leafs). I never held a grudge against him."

Should these stars of the 1930s still survive, you can be certain many would select Red Horner as one of the most competitive and toughest defensemen they faced during that era. Horner became an Honoured Member of the Hockey Hall of Fame in 1965.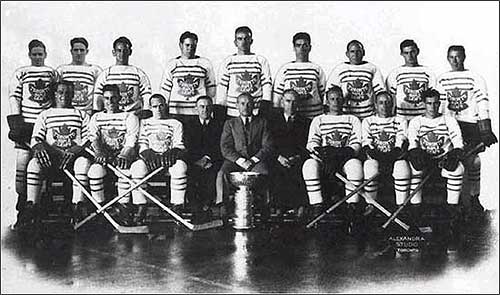 Horner claimed his pinnacle in hockey was "playing with some of the greatest who ever played the game." This photo of the 1931-32 Stanley Cup champion Toronto Maple Leafs included the famed Kid Line of Charlie Conacher (seated far left), Joe Primeau (seated second from the left) and Busher Jackson (seated far right), as well as defenseman King Clancy (seated third from the left). Red Horner is in the back row, fourth from the left.
Kevin Shea is a writer and hockey historian in Toronto. His next book, 'Barilko - Without a Trace,' will be published in October 2004 by Fenn Publishing.