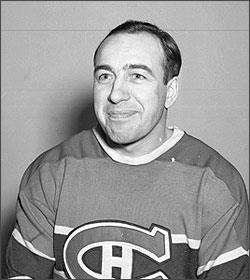 Despite the Canadiens struggles in the 1938-39 season, Toe Blake won the scoring championship and was named the league's top player beating out Toronto's Syl Apps.

When acquired by the Montreal Canadiens from the Montreal Maroons during the 1934-35 season, Toe Blake was a left winger with a short fuse and potential not yet realized. Cecil Hart, the Canadiens' manager, worked diligently with the talented Blake, and convinced him that his productivity would increase exponentially if he could curtail his on-ice outbursts and subsequent time in the penalty box.

Hart was no soothsayer, but his sage advice helped nurture Toe's talent, and his point totals did, in fact, increase dramatically. In fact, by 1938-39, Blake scored 24 goals and 23 assists. Although Boston's Roy Conacher was the NHL's leading goal-getter with 26, Toe led the league in points with 47, three better than Sweeney Schriner of the New York Americans. Besides winning the scoring championship, Blake was selected as recipient of the Hart Trophy as the National Hockey League's most valuable player and was picked for the league's First All-Star Team.

The transformation complete, this personal victory opened the door for Toe's Hall of Fame career. With the start of the 1939-40 campaign, Blake was named captain of the Montreal Canadiens, replacing Walt Buswell. Toe would wear the captain's 'C' for Montreal until his retirement after the 1947-48 season. But perhaps more importantly in the legacy of the Montreal Canadiens franchise was how Blake asserted himself as a prodigious talent and leader. Teamed with newcomers Elmer Lach and Maurice Richard in 1943, Toe Blake was part of one of the greatest lines in hockey history. The Punch Line dominated the ice lanes during the 1940's and contributed substantially to Stanley Cup victories in 1944 and 1946.

Kevin Shea is the Editor of Publications and Online Features for the Hockey Hall of Fame.