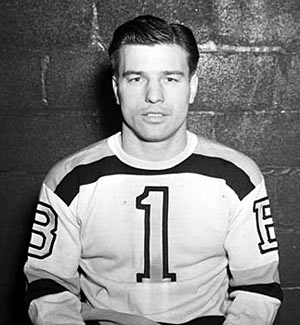 In his first NHL season Frank Brimsek led the league
with 10 shut outs and a 1.56 goals-against average, helping the Bruins to the franchise's second
Stanley Cup championship.
(Imperial Oil-Turofsky/Hockey Hall of Fame)

Few players have burst onto the scene in the National Hockey League in the manner of goaltender Frank Brimsek of the Boston Bruins.

While playing with the Providence Reds of the IAHL at the start of the 1938-39 season, Brimsek was called to report to Boston after Bruins' netminder Cecil 'Tiny' Thompson suffered an eye injury.

On December 1, 1938, Brimsek and the Bruins fell to the Montreal Canadiens by a score of 2-0. But then Brimsek recorded three straight shutouts, downing the Chicago Black Hawks 5-0 and 2-0 and the New York Rangers 3-0. His shutout streak extended to 231 minutes and 54 seconds, breaking the mark of 224:47 set by the man he replaced, Tiny Thompson.

After Brimsek's sensational streak was broken in a 3-2 win over Montreal, Frank proceeded to string together another. He collected three more shutouts — a 1-0 win over the Canadiens, a 2-0 triumph over the Detroit Red Wings and a 3-0 victory over the New York Americans. Brimsek's incredible streak in this sequence lasted 220 minutes and 24 seconds.

Frank Brimsek's NHL career began with six shutouts in eight games!

So confident in Brimsek's ability was Boston's general manager Art Ross that he traded the popular Thompson to Detroit and went with Brimsek, nicknamed Mr. Zero, for the next several seasons.

1938-39 concluded with Brimsek winning a truckload of honours. He finished the season with 10 shutouts and recorded a miniscule goals-against average of 1.56 that earned him the Vezina Trophy. He added the Calder Trophy as rookie of the year and was selected to the league's First All-Star Team. But there was no better conclusion to an extraordinary rookie campaign than leading the Boston Bruins to the Stanley Cup championship in the spring of 1939.

For Hockey Hall of Fame Honoured Member Frank Brimsek, the pinnacle of his hockey career was an incredible rookie season.

Kevin Shea is the Editor of Publications and Online Features for the Hockey Hall of Fame.