(November 15, 2002) -- Looking back on a storied career Kennedy's peak moment in hockey was not an individual honour, despite having many to choose from - inheriting the captaincy of the Leafs from Syl Apps in 1948, the ceremony where his boyhood hero Charlie Conacher bequeathed Kennedy his #9, being named the Hart Trophy winner in 1955. Rather, his personal zenith was as a member of a team, specifically during his sophomore year with the Leafs. In 1944-45 the young centreman netted 29 goals and 25 assists for 54 points, good for 5th best in the league helping the Leafs just scrape over the .500 mark at 24-22-4, and a 3rd place finish. Their fist round playoff opponents loomed large. The Montreal Canadiens posted a 38-8-4 record that year for a dizzying 80 points. Their lineup sported four first team all-stars as well as the NHL's initial 50 goal scorer (accomplished in 50 games, no less) in 'The Rocket' Maurice Richard. This lopsided mismatch in the Canadiens favour, however, turned out to have a David vs. Goliath like result.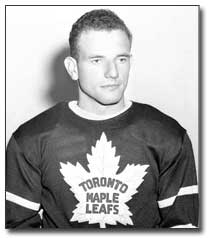 "Dick Irwin, who was their coach," says Kennedy, "said his team was the greatest that had ever played in the NHL. They lost less than 10 games in the whole season that year. It was a very close checking series all the way through. Frank McCool played extremely well for us in goal and we ended up beating the Canadians in the spring of '45 in six games. We knocked them out with four defensemen, six forwards, and a goal keeper. We had a full compliment of players on the bench, but they didn't get on the ice very often."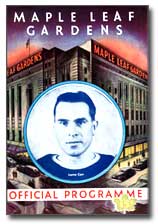 A 1945 Toronto Maple Leafs playoff program.

A victory that made Kennedy's choice to abandon the Montreal system in his teens look like the right one. Yet the team's ultimate task wasn't over with their giant slaying in round one. Second place Detroit, a 31-14-5 team in the regular season, had ousted Boston in 7 games and was set to face the upstart Leafs in a see-saw finale.

"In the Cup final, we won the first three, Detroit came back to win the next three. In game 7 in Detroit, Babe Pratt charged in from the blue line and shot it past Harry Lumley and we won having no license to do so. There were a lot of peaks and valleys I experienced in the NHL, but the most memorable times were the Stanley Cup wins, and even though they were all gratifying, the top one was in 1945. If I had to narrow it down to one event in my pro career, that would be the peak."

Ryan Watson is a freelance writer from Toronto and can be reached at ryanawatson@hotmail.com.