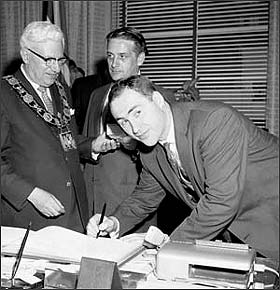 The Maple Leafs' Red Kelly signs
the guestbook at Toronto's City Hall in 1963 while
Mayor Phil Givens looks on.

(November 18, 2003) -- The long career of Red Kelly can be summed up with a single word - versatile.

Debuting with Detroit in 1947-48, Kelly was an offensive defenseman fresh out of junior. But his skills solidified quickly, and Kelly was recognized accordingly. Through twelve and a half seasons with the Red Wings, Red was part of four Stanley Cup championships, was chosen for the NHL's First All-Star Team six times and to the Second Team twice, was the inaugural winner of the Norris Trophy as the league's premier defenseman in 1954 and embodied effective yet gentlemanly play with three Lady Byng wins.

But in February 1960, Red Kelly was stunned by a trade to the Rangers. Rather than report, Kelly retired, only to be talked out of it less than a week later by the Toronto Maple Leafs. After his all-star tenure as a defenseman in Detroit, Red Kelly was employed as a centre in Toronto. He enjoyed three twenty-goal campaigns and added four more Stanley Cup championships for a total of eight career triumphs. Kelly was awarded the Lady Byng once more as a Maple Leaf.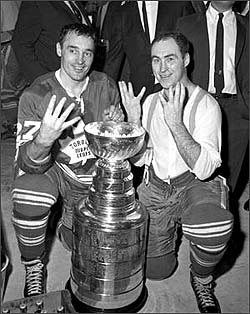 The Stanley Cup victory for the Toronto Maple Leafs in 1967 was the fourth for star winger Frank Mahovlich. It was the eighth for Kelly who won four with Detroit before joining the Leafs in 1960.

"To play in the NHL, that was great," begins Kelly. But when asked his career highlight, Red chose the 1967 Stanley Cup championship; his eighth and final champagne celebration. "To win the Stanley Cup, that's what it's all about. It doesn't matter if you score sixty goals, if you don't win the Stanley Cup, it doesn't mean beans. You have a successful year when you win the Stanley Cup. You're not successful if you don't win the Stanley Cup."

In 1966-67, Toronto was icing a veteran team. Johnny Bower was 42 and Terry Sawchuk, 37. Defenseman Tim Horton was 37; Allan Stanley was 41 while Marcel Pronovost was 36. Up front, George Armstrong was 36. Red was 39. The team was tagged the 'Over the Hill Gang,' but there was a lot of life left in this team. They finished the season with 75 points and third place, well behind first place Chicago with 94 points and narrowly edged by Montreal with 77.

In the first round of the playoffs, the Leafs knocked off the favoured Hawks four games to two. It set up a Centennial spotlight. Canada was celebrating its one-hundredth birthday, and with the only two Canadian teams in the NHL, it was great for the country.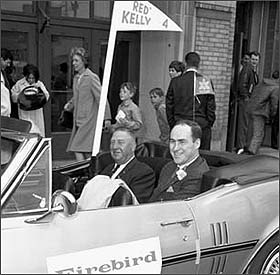 The motorcade drove past Maple Leaf Gardens
as part of a parade to celebrate the Leafs'
Stanley Cup victory in 1967.

Red Kelly was in the twilight of a brilliant career. "I signed nineteen one-year contracts because I always figured if I have a good year this year, I'll get more money next year," Kelly jokes. But 1966-67 was to be his final season, and the Canadiens, his final opponent as a player. Kelly was assigned to shadow Jean Beliveau, a task he had been repeatedly asked to perform through his career with Toronto.

The series took six games, but when the dust cleared, it was the surprising Toronto Maple Leafs who carried away the Stanley Cup. "Winning the Stanley Cup - the first one, second, third, fourth, fifth, sixth, seventh, eighth - was the last one any better? I don't know. It was nice to go out that way but they were all fantastic." Kelly went out a winner. After winning his final NHL game, the 3-1 Stanley Cup-winning Leaf victory on May 2, 1967, Red Kelly retired and was selected to coach the fledgling expansion franchise in Los Angeles.

Kevin Shea is a freelance journalist residing in Toronto.