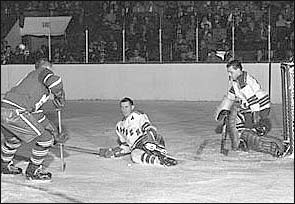 A regular shot blocking defenseman, it's no surprise that Gadsby received over 600 stitches throughout
his career. (HHOF Images)

Twenty-year NHL star Bill Gadsby was never fortunate enough to win the Stanley Cup during a career that saw him toil for the Chicago Black Hawks, New York Rangers and Detroit Red Wings. Nonetheless, he gave his all each and every shift, and it is that competitive fire that earned him entrance in 1970 to the Hockey Hall of Fame.

"As an athlete, I felt as if I owed my coach, my teammates and the fans my best every night," begins Gadsby. "As an athlete, I felt I had to stand up for my teammates and myself. As an athlete, I felt I couldn't cheat the talent I had been blessed with."

Bill never cheated a sole during his career, but that doesn't mean he didn't earn every inch of ice he protected. "From the day I started in the National Hockey League with the Chicago Black Hawks until the day I retired from the Detroit Red Wings in 1965-66, I felt as if I was in the midst of combat. Each game was a battle between athletes who felt like they had to prove they belonged in the NHL every day they were in it."

To prove his point, Bill laughs as he recalls the 600+ stitches he took through the NHL wars. "The reason I know how many stitches I had is that my dear wife, Edna, kept a log of how many times I was hurt, just like some spouses keep a list of birthdays and anniversary dates. That was just part of our life. When a local insurance man started offering players stitch insurance, I signed up immediately. Under terms of the $100 policy, I would receive $5 for every stitch I received that season. A few days after I bought the policy, Hugh Bolton of the Maple Leafs fired a shot towards the net. Just as he completed his follow-through, (teammate) Bill Mosienko skated in front of me and I never saw the puck until it split open my lower lip. The final tally was 30 stitches. It was the ugliest gash of my career. My diet consisted of a tea and toast for about three weeks. I lost 11 pounds. But I had to laugh at the poor agent who sold me that stitch insurance. In less than two weeks I had paid for the policy. I had gotten back all my money, plus a $50 profit. I think they stopped offering that policy not long after that."

Bill clearly has an enormous amount of love for his wife, but it goes beyond a normal affection. "Talk about taking your husband for better or worse, if my stitches were ready to be removed and the doctor wasn't available, Edna would get out a small pair of scissors and some tweezers and remove them herself. If that isn't love, what is? Edna was simply an angel during all of my injuries."

Gadsby concludes with the maxim that governed his life and career. "I was one man who believed he had to do the best he could every day, as a husband, father and hockey player. That's how my parents raised me. I knew no other way. Whether I was blocking a shot or playing with my children, I remembered what my parents had taught me."

Kevin Shea is the Hockey Hall of Fame's Editor of Publications and Online Features.