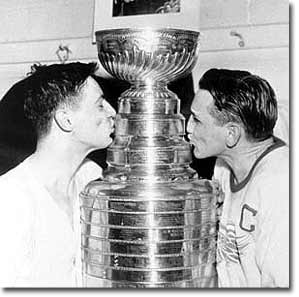 In his first two seasons with Detroit, Sawchuk's Wings were captained by Sid Abel, here celebrating the championship in 1952. The two were paired again when Abel coached the Wings during Terry's second foray in Detroit, between 1957-58 and 1963-64.
Photo courtesy of the Walter P. Reuther Library, Wayne State University.

(March 9, 2004) -- It was a heady five years for the Detroit Red Wings' franchise between 1950-51 and 1954-55. In those five seasons, Detroit finished first each year and won the Stanley Cup three times. Terry Sawchuk was a primary reason for the Red Wings to enjoy a dynastic period of their existence. It was an era that Sawchuk considered the highlight of his hockey career.

Through that glorious five season period for the Detroit Red Wings, Gordie Howe led the NHL in scoring four times and finished fifth on one other occasion. The firepower was spread throughout the Wings' line-up. Howe's linemate Ted Lindsay finished top ten in scoring four times, while Sid Abel finished in the top ten twice before his trade to Chicago in 1952. Dutch Reibel finished top ten twice and both Alex Delvecchio and Metro Prystai appeared in the top ten once. Even defenseman Red Kelly reached the top ten scoring parade, doing so three times during that five-year period.

But the Detroit Red Wings employed a full team defensive strategy that matched their offensive prowess. Not only did they ice an outstanding quintet of defensemen in Bob Goldham, Red Kelly, Marcel Pronovost, Leo Reise and Benny Woit, but the entire team emphasized defense. "Not only do we have five fine defensemen but the ten forwards are just as important on defense with their backchecking," Sawchuk once explained. "In other words, keeping out goals is a sixteen-man job on this team."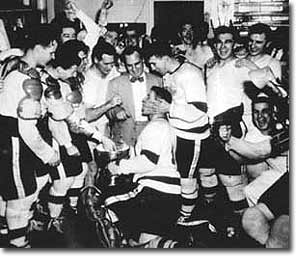 The Red Wing dynasty culminated in a Stanley Cup celebration in 1954 - the fourth in six years for Detroit and the third with Terry Sawchuk in goal.
Photo courtesy of the Walter P. Reuther Library, Wayne State University.

The team earned individual awards, too. Besides Gordie Howe's four Art Ross Trophy wins, he also won the Hart Trophy as the NHL's most valuable player in both 1952 and 1953. Red Kelly earned the Lady Byng Trophy as the league's most gentlemanly player in three of those five years. Although the Norris Trophy for the best defenseman wasn't introduced until 1954, Kelly was the first recipient of that new award. And Terry Sawchuk was recognized as the NHL's top rookie in 1951, winning the Calder Trophy. Sawchuk picked up the Vezina Trophy for the best goals-against average three times during those five years.

Jack Adams described the closeness of the Detroit Red Wings during the early 1950s, saying, "We made the greatest record in history with a team that breathed, ate and slept hockey. The players, most of them young and unmarried, lived together and lived hockey like a Notre Dame team lives football." Sawchuk's widow, Pat, also recalled how close Terry felt to that team. "The Detroit Red Wings were his family. Jack Adams was like his father. The guys were all close. When he was on that ice, he would have given his life (for the Red Wings)."

Sawchuk remembered that five-year period as the greatest time of his life, and teammates recalled Terry with that same affection. "He was a great goaltender," stated Johnny Wilson. "We felt lucky to have Terry for our teammate." Bob Goldham concurred, proclaiming, "He was the greatest goaltender who ever lived. We could always count on him to come up with the big save. When I look back on those Stanley Cup series, what I remember is Ukey (Sawchuk) making one big save after another."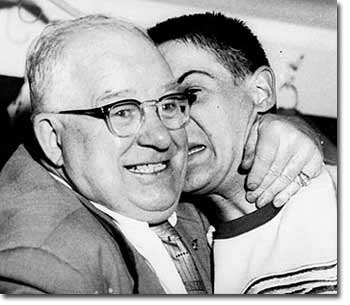 Detroit general manager Jack Adams introduced Sawchuk to the NHL during the 1949-50 season. Here, 'Jolly Jack' embraces his star netminder after Terry won the Vezina Trophy in 1955. Two months later, Adams traded Terry to Boston.
Photo courtesy of the Walter P. Reuther Library, Wayne State University.

Yet, the hockey world was stunned when the Red Wings' dynasty was dismantled after having just won the Stanley Cup in 1955. That summer, Terry Sawchuk was packaged with Marcel Bonin, Lorne Davis and Vic Stasiuk and sent to the Boston Bruins for Gilles Boisvert, Real Chevrefils, Norm Corcoran, Warren Godfrey and Ed Sandford. Five days prior to the Sawchuk trade, Jack Adams sent Glen Skov, Tony Leswick, Johnny Wilson and Benny Woit to Chicago for Dave Creighton, Bucky Hollingsworth, John McCormack and Jerry Toppazzini. In fact, half of the Stanley Cup lineup from the previous spring was traded before training camp that fall.

The Red Wings' dynasty was finished. Of all those received in the two trades, only Warren Godfrey from Boston and Bucky Hollingsworth from Chicago were part of the Detroit line-up by the end of the following season.

It was the end of a glorious era for the Detroit Red Wings. For Terry Sawchuk, it left a bitter taste towards a time he considered the pinnacle of his NHL career.




Kevin Shea is the Hockey Hall of Fame's Manager, Special Projects and Publishing.