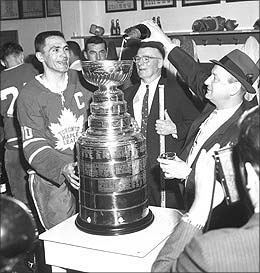 George Armstrong (#10) watches Punch Imlach pour champagne into the Stanley Cup to celebrate the team's Stanley Cup championship in 1967.

Fans of a certain vintage will recall the indelible memory of May 2, 1967 when George Armstrong took a cross-ice pass from Bob Pulford, lugged the puck several strides, then fired the puck into an empty net at 19:13 of the third period to cement the Stanley Cup win over the Montreal Canadiens during Canada's centennial year. "When that goal went in, they all could relax," he told www.mapleleafs.com. "The fans could let the air out. Before that, it was still nip and tuck." George chuckled, "More people remember that than the guy (Jim Pappin) who scored the winning goal, for crying out loud."

Few expected the Maple Leafs to win the Stanley Cup. In fact, there were many who doubted that they'd even make the playoffs, but Toronto surprised the hockey world and collected the Stanley Cup for the fourth time that decade ... and the last time in franchise history.

George Armstrong, the 35-year-old Leaf captain, accepted the Stanley Cup on behalf of his team and, with his son Brian by his side, called his teammates over to savour the fourth and what would be last time Armstrong he would carry the Stanley Cup as a player. Armstrong, the longest serving captain in team history, knew that this championship was special. "The first year of expansion was coming. We knew things were going to change," he said.

That team boasted a roster that included 42-year-old Johnny Bower, 41-year-old Allan Stanley, 39-year-old Red Kelly, 37-year-olds Terry Sawchuk and Tim Horton and 36-year-old Marcel Pronovost . "I was one of five or six guys who could have been captain of any hockey team in the world," George shrugged. "The only reason I was captain is I was here before them."

But Bob Pulford wasn't so quick to agree. "He (Armstrong) was the missing ingredient who made that team come together. That championship doesn't happen without George."

Kevin Shea is the Editor of Publications and On-Line Features at the Hockey Hall of Fame.