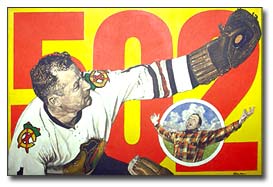 Artwork from the "Thompson Collection" commemorating Glenn Hall's 502
consecutive game streak.

(November 29, 2002) -- Glenn Hall stepped into the National Hockey League as a full-time goaltender in 1955-56, starting for the Detroit Red Wings after they traded their star, Terry Sawchuk, to the Boston Bruins. Little did anyone ever dream that the durable Hall would go on to play 502 consecutive games, establishing a record that will never be broken. "When I started, it was a one goalkeeper situation," explains Hall. "Today, it couldn't happen. If you have a bad game today, in all probability, you're not going to start the next game. In the old days, if you were tired, you were expected to play. I just happened to be lucky and not get hurt to a degree that kept me out of a game."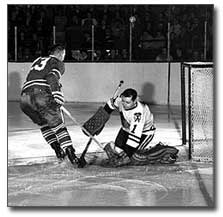 In an era where netminders played without masks, donning equipment that marginally covered bodies perennially purple from pucks, sticks and skates, Glenn Hall started the 1955-56 season with Detroit, and it wasn't until November 7, 1962, an incomparable 502 games later, that he was finally forced to rest with a back injury. "Today, I don't think you'd be able to play around an injury as much as you could in the old days. You could favour a sore arm or a sore leg. Where I started the butterfly (Hall's trademark and much-copied move whereby he dropped to his knees,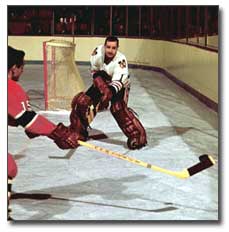 spreading his goal pads like a 'butterfly' to cover the bottom of the net) was because of a groin injury. The split used to be the big save for a goalkeeper, but I found if you had a sore groin, you could work around the split by getting into the 'butterfly.'"
During the ironman streak, Glenn Hall won the Calder Trophy as NHL rookie of the year, played first for the Red Wings, then with Chicago, was named to the First All-Star Team three times and to the Second Team twice and was part of the Blackhawk team that claimed the Stanley Cup in 1961.
502 consecutive games; seven complete seasons -- an extraordinary accomplishment by an extraordinary competitor and the pinnacle of Glenn Hall's brilliant career.
Kevin Shea is co-author of several hockey biographies. His most recent book is "Over The Boards - The Ron Ellis Story" (H.B. Fenn), released November 2002.