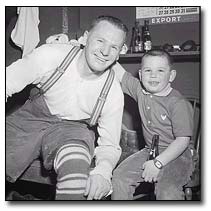 A family celebration -
Johnny Bower and son.

(April 1, 2002) -- After 12 years in the minors, Johnny Bower made the Toronto Maple Leafs as the number one goalie in 1958 at the age of 34! That he would win a Stanley Cup four years later was, without question, a miracle win for the man they called "the China Wall" because he was as old (or, so said his teammates) as that ancient testament to another civilization. "You can't ever give up hope," Bower explained recently in an exclusive hhof.com interview. "When you're a kid, you always dream of winning the Stanley Cup, but you think, 'it'll never happen to me.' Winning my first Cup was a dream come true."
It may have been a dream after the fact, but the Leafs won two hard-fought series to claim the NHL championship for the first time since 1951. In the semi-finals, they beat the Rangers in six games, and in the finals, against Chicago, it was another six-gamer, the deciding contest, a 2-1 win, coming at the Chicago Stadium. Bower played every game of the New York series and appeared in four of the six games of the finals.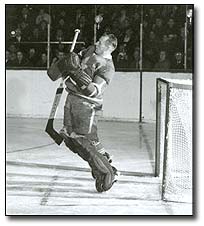 He allowed just six goals against a mighty Hawks team (Don Simmons played the other games). "It could have gone either way," Bower admitted, though after a pause, he added, "but we were the better team. We all put our arms around the Cup afterwards, and in the dressing room we had more fun with it. It's not like today, though, when everyone gets to take it home."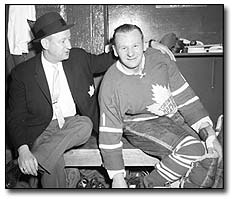 Coach Punch Imlach
congratulates Johnny

The victory was also sweet for coach Punch Imlach, who was molding a team in his unique way. "Punch was a strict coach," Bower confessed. "He favoured the old players, but he knew he needed some young ones, too. The team was one happy family. We used to say, the old guys will take the team 'til Christmas, then the young guys have to carry us the rest of the way."

Bower, who used to room with captain George Armstrong on the road, ended his career with four Stanley Cups, the last, in 1967, at age 42. "You're never too old to play," he said with a grin.




- Andrew Podnieks is the author of numerous books on hockey including the current The Essential Blue & White Book. He is also a regular contributor to Leafs.com and managing editor of A Day In The Life of the Leafs to be published in the fall of 2002.