(March 7, 2003) -- When a hockey player is asked to select the event that he considers the pinnacle of his NHL career, one highlight usually rises above all others as a logical selection. But when you've played 20 seasons with the team of your boyhood dreams, had the opportunity to play with your brother, scored over 1,000 points in more than 1,000 NHL games, won the Stanley Cup on 11 occasions and been selected as an Honoured Member of the Hockey Hall of Fame, how can Henri Richard possibly select but one highlight? It's impossible, so Henri was allowed to choose two highlights from his superb NHL career with the Montreal Canadiens.

"When my brother Maurice got married and left home, I was six years old. I never thought that I would play with him," recalls Henri. "I not only got to play with my brother Maurice, which was quite a thrill, but I played with him for five years."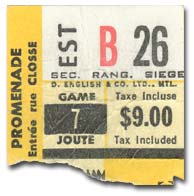 A ticket stub from Game 7 of the 1971 Stanley Cup Final.

"The goal against Chicago to win the Stanley Cup in 1971 was a highlight, too," mentions Richard. During the 1971 playoffs, Henri found himself embroiled in controversy. "I had said (to the media) that the coach (Al MacNeil) was a bad coach". But Richard's goat horns turned into a halo by the time the final series was over. "I could have been a bum and made a big mistake (by blaming the coach) if we lost the game, but I went on to score the winning goal, which was a great thrill."

If we had allowed Henri Richard 20 career highlights, those of us fortunate enough to have watched him play could have readily agreed with any one of them. It was that kind of career for Henri Richard!






Kevin Shea is co-author of several hockey biographies. His most recent book is "Over The Boards - The Ron Ellis Story" (H.B. Fenn), released November 2002.