(February 7, 2003) -- Edmonton-born Johnny Bucyk enjoyed a phenomenal career that combined outstanding durability with brilliant productivity. Through 23 NHL seasons, 21 of which were starring with the Boston Bruins, Bucyk played 1,540 games, scoring 556 goals, 813 assists and 1,369 points. In 16 of his 23 seasons, Johnny scored 20-or-more goals.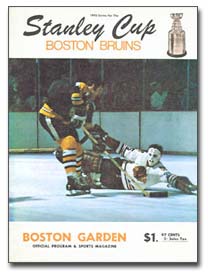 Although always one to put team accomplishments ahead of personal achievement, Johnny Bucyk nevertheless was selected to the First All-Star Team in 1971 and to the Second Team in 1968. In fact, 1971 was a career season for the popular leftwinger. He not only was named an All-Star, but finished third in scoring that season with 51 goals, 65 assists and 116 points and was the recipient of the Lady Byng Trophy as the league's most gentlemanly player.
When pressed to choose a single career highlight, Bucyk deliberates before arriving at the answer. "Winning the first Stanley Cup had to be the biggest thrill." The Boston Bruins had last won the Stanley Cup in 1941, and after an exhaustive wait, Bucyk and the Bruins collected hockey's most coveted prize in 1971. "Although I was wearing an 'A', I was still the captain because we had three assistants that year and I was the number one. I don't know what the difference was except I had an 'A' instead of a 'C', but I was presented the Stanley Cup on behalf of the team in Boston. In those days, the captain took the Cup and skated around the rink and I got the opportunity to do that, right in my home rink. It was a thrill I'll never forget. It was a big honour. In those days, you couldn't take the Cup home with you but just to have a picture of me with the Stanley Cup was outstanding."
But Bucyk feels limiting himself to a single pinnacle after such an extraordinary career is near impossible. "Of course, we went on to win the Stanley Cup again in '72. In 1975, I scored my 500th goal - that was very exciting. Scoring 50 goals in one year (1970-71) was great and then, of course, being elected to the Hockey Hall of Fame in 1981. Having my number retired at the Boston Garden in 1980 was outstanding, too." After all the achievements earned by Johnny Bucyk through 23 NHL seasons, he can be forgiven for choosing more than one career highlight. "I couldn't ask for a more complete career. And here I am still working for the Bruins. This is my forty-fifth season with Boston. I've been around a long time and I've enjoyed it very much."

Kevin Shea is co-author of several hockey biographies. His most recent book is "Over The Boards - The Ron Ellis Story" (H.B. Fenn), released November 2002.