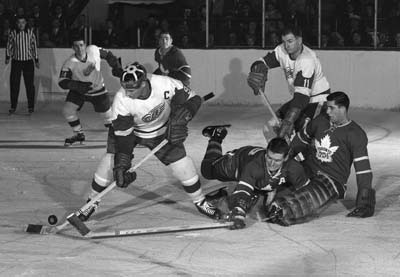 Allan Stanley defends against Detroit's Gordie Howe during game action at Maple Leaf Gardens. (Imperial Oil-Turofsky/HHOF)

When Punch Imlach joined the Maple Leafs and was looking to bolster his team with veterans, he learned of Allan Stanley's availability and quickly made the deal that brought the defenceman to Toronto. Stanley was the first acquisition made by Imlach in October 1958 when he sent Jim Morrison to Boston for the 32-year-old.

Given up as too old by the Bruins, the Maple Leafs got ten excellent years out of the wily veteran. Although slow of foot (he was nicknamed 'Snowshoes' by the Toronto press), Allan was a cerebral player, and matched beautifully with blueline partner Tim Horton.

"Allan was one of the best 'angle' defencemen," declared Johnny Bower. "He would give a goaltender a perfect angle. If Gordie Howe was coming down the wing, he would steer him to such a bad angle that there was no way that Howe could score a goal on you. If he did, he would have to put it through your legs or on the short side. There is no way you could blame a defenceman for that. He was not a fast skater by any means. He would stay back and headman that puck. He was a steady, stay-at-home guy."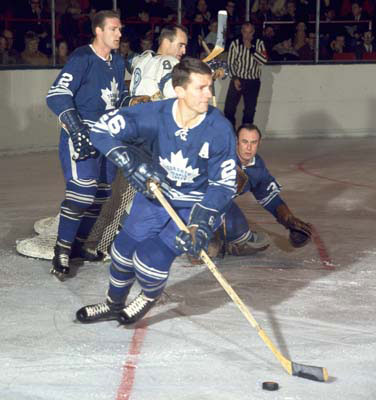 Allan Stanley would play ten seasons with the Toronto Maple Leafs. (Graphic Artists/HHOF)

Other teammates also appreciated Stanley's skill-set. Red Kelly commented, "Big Stan was a great team guy and loved to analyze the game, too. He was no gazelle on skates, but he knew how to be in the right spots."

Bert Olmstead had great respect for Stanley. "There were no funny tricks with Stan," stated Bert Olmstead. "Do the fundamentals well and do them often and it makes you a pretty good hockey player."

The Toronto Maple Leafs, blending veterans with youngsters, captured the Stanley Cup on four occasions during the 1960s – 1962, 1963, 1964 and 1967 – and Allan Stanley played a consistent, dependable, yet understated, role with the team.

He considers his time with the Toronto Maple Leafs as the pinnacle of his career. "It was continuous excitement and I'm just happy that I was a part of it."

Kevin Shea is the Editor of Publications and Online Features for the Hockey Hall of Fame.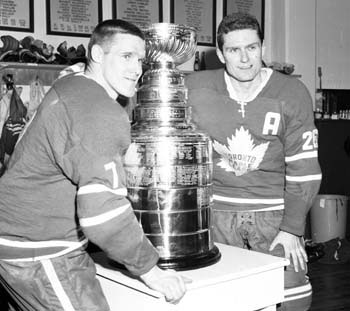 Tim Horton and Allan Stanley with the Stanley Cup. The Timmins, ON native would capture four Cups with the Leafs.
(Imperial Oil-Turofsky/HHOF)