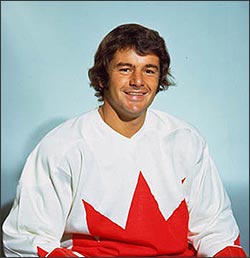 Gilbert played six of the eight games in the 1972 Summit Series, collecting a goal and 3 assists along with 9 penalty minutes in helping lead Canada to an astonishing win over the Soviets.

Rod Gilbert had enjoyed a career year in 1971-72. In fact, the New York Rangers' GAG Line (Goal A Game) had all finished in the NHL's top ten scoring race. Centre Jean Ratelle finished third with 109 points. Left winger Vic Hadfield had pumped in 50 goals on his way to a 106-point finish, good for fourth overall. Rod Gilbert had 97 points - 43 goals and 54 assists -- and finished fifth in scoring. "We were good friends. We complemented each other. We were attached together," remembers Rod.

All three members of the Rangers' starring line were selected for Team Canada that summer. "Team Canada '72 was the greatest accomplishment of my career. It was the event of the century in Canada." But the event didn't turn out exactly as any of the three Ranger forwards had hoped. "It didn't turn out that great for any of us. We had some problems."

"The first game, we weren't in shape and we lost. It seemed at the beginning that we were so favoured, then it turned out that we had our hands full. They actually gave us too much to chew on." Gilbert, Ratelle and Hadfield played together in Game One on the ice at the Montreal Forum.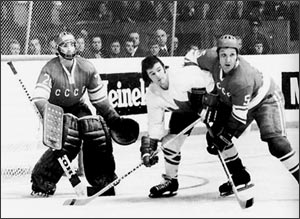 Rod parks himself in front of Soviet netminder Vladislav Tretiak during this Summit Series action. Both are now in the Hockey Hall of Fame.

"The first game, I was on my first shift with Ratelle and Hadfield and I recall being out there close to two minutes and when we went back to the bench, we looked at each pother and I said, 'I didn't touch the puck once. Did you guys?' We never had the puck once. The Russians kept passing the puck backwards and retained possession of the puck for the entire shift." The Canadians lost 7-3. "(After that game), we never got to play with each other again," mentions Rod. "I got to play the four games in Russia. I played with Dennis Hull on my left. I played with Yvan Cournoyer too."

Vic Hadfield played in games one and four, then returned to North America and attended the New York Rangers training camp. The move was chastised severely by the media at that time. "When Vic Hadfield left the team, I was really upset," admits Gilbert. Ratelle stayed with the team and played two games in Canada and all four in Moscow, contributing significantly.
In 2000, Team Canada '72 was named Canada's Team of the Century and had a permanent monument unveiled in its honour at the Hockey Hall of Fame. As part of the festivities, players interacted with Hall patrons through a series of Fan Forums, including this one with Rod.

Team Canada was not prepared for the smooth playmaking exhibited by the Soviets. "We adjusted to that, but it was the most competitive experience I ever had in my career," states Rod. "It was so unnerving every game. It was so different from the style that we were accustomed to playing."

Gilbert played in Moscow in Game Five and earned an assist, but Team Canada lost 5-4. Game Six saw Canada edge the Soviets 3-2. In Game Seven, Rod Gilbert scored a goal as Canada beat the USSR 4-3. "The biggest moment was when we won Game Eight. I made the play to Bill White to tie the score at three-all. And then we got the win and that was exhilarating, emotional and very satisfying," beams Gilbert.

"Yvan Cournoyer told me, 'I would give up all my Stanley Cups for that one experience.' Of all the Cups he won, that was his biggest thrill; his biggest accomplishment." Rod concludes, "That win with Team Canada in 1972 was my Stanley Cup."

Kevin Shea is the Manager of Special Projects and Publishing at the Hockey Hall of Fame.