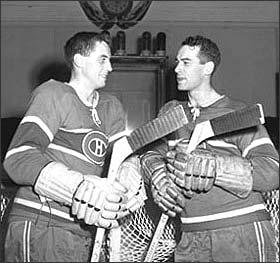 Jean Beliveau (left) talks to Bert Olmstead (right) in front of the net. The two would combine with Bernie "Boom Boom" Geoffrion from 1953 through to 1958 and form one of the greatest lines in NHL history.

The 1955-56 campaign was extraordinary for fans of the Montreal Canadiens. Their team was about to embark on an unprecedented five-year hold on the Stanley Cup. And right there in the thick of things was the big leftwinger from Sceptre, Saskatchewan, Bert Olmstead.

Playing on a line with Bernie 'Boom Boom' Geoffrion and Jean Beliveau, Olmstead set an NHL record in 1955-56 by collecting 56 assists. In fact, with the addition of his 14 goals, Bert finished fourth in scoring, following behind teammates Jean Beliveau (first) and Maurice Richard (third). Geoffrion finished seventh in 1955-56. For his efforts, Bert was rewarded with selection to the NHL's Second All-Star Team.

Olmstead, as well as his teammates, continued with their hot hands as they moved into the playoffs.

Montreal won the semi-final against the New York Rangers in five games, with Bert contributing 3 goals and an assist. Two of those goals were in the deciding Game 5 contest.

The Stanley Cup final was like 'Showdown at the OK Corral.' The gunslingers from Detroit faced the sharpshooters from Montreal. It was certain to be one hell of a series.

In Game 1, Bert Olmstead contributed 2 assists, both on goals by Beliveau, as the Canadiens outscored the Wings 6-4. Montreal outdrew Detroit again in Game 2, winning 5-1 and Olmstead collecting 3 assists. The Red Wings rebounded 3-1 in Game 3 but Montreal brought them back to earth in Game 4 with a 3-0 whitewash. Bert Olmstead assisted on two goals, both scored by linemate Beliveau. Game 5, played April 10, 1956 in Montreal, was a 3-1 Montreal win, giving les Canadiens le Coupe Stanley. Bert Olmstead earned an assist on Montreal's third goal, a tally by Bernie Geoffrion. The assist gave Olmstead 8 during the Stanley Cup final and a league-best 10 for the entire playoff tournament.

NHL president Clarence Campbell presented the Stanley Cup to Montreal's captain, Butch Bouchard. It was the second of five times Bert Olmstead would enjoy a Stanley Cup championship, but none ever matched the satisfaction of the championship earned in 1955-56.

Kevin Shea is the Editor of Publications and On-Line Features at the Hockey Hall of Fame.