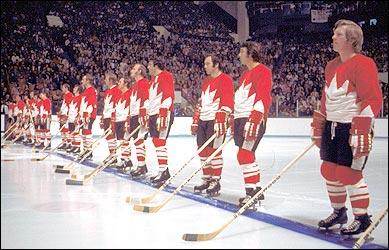 Remarkably, fifteen players from Team Canada's 1972 Summit Series roster have gone on to be elected to the Hockey Hall of Fame.
(Graphic Artists/HHOF)

Following an explosive season in 1971-72 in which he finished third in NHL scoring with 109 points, it was no surprise that Jean Ratelle was selected to play for Team Canada during the much-heralded Summit Series pitting Canada's best against the Soviet Union's best for the first time in NHL history.

With Ratelle were his Goal-A-Game Rangers linemates. Both Vic Hadfield and Rod Gilbert had also enjoyed career seasons, finishing fourth and fifth in scoring behind their centre during the 1971-72 season.

Expectations ran high, and pundits believed that the high-flying Ranger trio would dominate the Soviets, while Team Canada would walk away easily as winners of the eight-game series. Neither suggestion, it turned out, came to pass.

Game One, played in Montreal, opened the eyes of both the players and the pundits, as the Soviets skated away with a decisive 7-3 victory. Ratelle played in the game but did not earn any points. Jean did not dress in Game Two, a 4-1 Canadian win played in Toronto. Winnipeg hosted Game Three, and Ratelle scored at 18:25 of the first period in a game that concluded in a 4-4 tie. He was not in the line-up in Vancouver for Game 4, a 5-3 loss for Canada that provided a stunning blow to the team and the country.

By this point, coach Harry Sinden had to shake up the line-up. Giving everyone a chance to play was not working, so he shortened the bench and assigned differing roles from the ones enjoyed by players in the NHL. A disgruntled Vic Hadfield returned to Canada. In his place, Sinden placed Dennis Hull, and the line of Ratelle between Gilbert and Hull was given a primarily defensive role, although the trio clicked and contributed offensively as well. Ratelle's calm demeanour served the Canadian team well, but impressed the Soviet team, too.

Games Five through Eight were played in Moscow, and Jean played in each of them. Game Five was a 5-5 loss to the Soviet squad, but Canada rebounded with a 3-2 victory in Game Six and a 4-3 win in Game Seven. In the latter contest, Ratelle assisted on a third period goal by Gilbert.

Game Eight proved far more pivotal than any of the participants had originally believed. In a game that has become as historically relevant as it was hockey relevant, Canada won the game with a late third period goal by Paul Henderson.

"Here's a shot. Henderson makes a wild stab for it and falls. Here's another shot. Right in front. They score! Henderson has scored for Canada!"

Jean Ratelle collected two assists in that game. He added a helper to Brad Park's first period-goal, and assisted on a tally by Bill White in the second. Jean finished the series with a goal and three assists in six games.

Jean stated that the pinnacle of his career was having the opportunity to play in six of the eight games that comprised the historic Summit Series. "It was a privilege I will never forget," he said. Always the gentleman, Ratelle insisted on lauding the opponents. "They were a great hockey club," he said of the Soviets. "Most of the Russians were small, but very strong. They were fast with good skills. It was the highest level of hockey I'd ever experienced."

The series' victory immortalized Team Canada and its members. And from that club, fifteen players have gone on to be elected to the Hockey Hall of Fame: Bobby Clarke, Yvan Cournoyer, Marcel Dionne, Ken Dryden, Phil Esposito, Tony Esposito, Rod Gilbert, Guy Lapointe, Frank Mahovlich, Stan Mikita, Bobby Orr (who was unable to play due to injury), Brad Park, Gilbert Perreault, Serge Savard and, of course, Jean Ratelle.

It was the greatest hockey tournament ever played.

Kevin Shea is the Hockey Hall of Fame's Editor of Publications and Online Features.