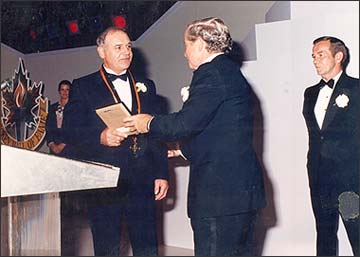 HHOF Chairman and Chief Executive Officer, Scotty Morrison presents Leo Boivin a medallion commemorating his induction into the Hockey Hall of Fame in 1986. (HHOF Archives)

Although his eighteen-season NHL career encompassed much of the glorious Original Six era, bridging into expansion, Leo Boivin was never able to be part of a Stanley Cup championship. "My dream was to win the Stanley Cup, but I never did win it. It's just the way it goes. Montreal and Detroit had all kinds of talent and won most of the Stanley Cups during my career." In fact, Montreal won ten championships during that period, Toronto collected four, Detroit two and Chicago and Boston won one each. During that same period, the Canadiens finished first ten times, Red Wings finished first on five occasions, Chicago twice and the Maple Leafs once.

But in reflection, Leo Boivin is able to look back on a number of accolades. In his hometown of Prescott, Ontario, the community centre is named in his honour. Looming even larger is one other thrill. "I think the biggest thrill of my career was being inducted into the Hockey Hall of Fame. To be voted in among your peers, even today, is hard to explain. I had never been on a Stanley Cup (winning team), but to be in there with such great, great hockey players was just such a great honour. That, to me, was even better than winning the Stanley Cup!"

In 1986, Leo Joseph Boivin was inducted into the Hockey Hall of Fame along with David Keon and Serge Savard. To be candid, defensive defencemen didn't always get the recognition their teams knew they deserved, so it was fitting that Leo was honoured in such a manner, recognizing his bodychecking attributes and leadership qualities throughout an outstanding career in the National Hockey League.

Kevin Shea is the Hockey Hall of Fame's Editor of Publications and Online Features.