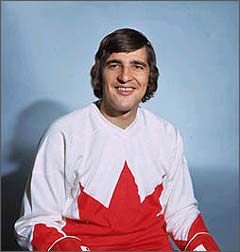 Serge Savard as a member of Team Canada '72.

(December 16, 2003) -- When the Canadian team was being assembled to compete against the Soviet Union in the 1972 Summit Series, assistant coach John Ferguson convinced head coach Harry Sinden that Serge Savard had to be in the mix. Although Savard was recovering from the second of two consecutive broken legs, restricting his play to just 23 games in 1971-72 and 37 the year before, Ferguson had been a teammate of Savard's in Montreal and knew him to be a fierce competitor with considerable skills.

Game One was held September 6 in Montreal, where Serge Savard had won so many accolades during his burgeoning career. But Savard did not dress for that game, a 7-3 Soviet victory. Wearing Number 23, not his usual 18 which was being worn by Jean Ratelle, Savard appeared in Game Two, a 4-1 win for Team Canada in Toronto. Game 3 was played in Winnipeg, and although Savard did not register in the statistical column, he played a solid game in the 4-4 tie.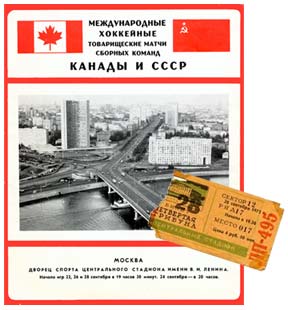 A Game 8 program and ticket from the Summit Series finale between the USSR and Canada.

In a practice prior to Game 4, Serge took a Red Berenson shot off the ankle. Doctors examining Savard confirmed the worst - he had cracked a bone in his ankle. "I thought my series was over," explains Serge. "They found a hairline fracture in my leg. They took some tests and I flew back to Montreal." But the schedule played in Serge's favour. Game Four was played in Vancouver on September 8 (a 5-3 victory for the USSR), but between travel and two exhibition games against Sweden in Sweden, Team Canada would not play the Soviet team again until September 22.

Against the wishes of the Montreal Canadiens and Team Canada's team doctors, Savard travelled to Russia. As a precaution, he sat out Game Five, a 5-4 victory for the USSR. But the rest had served his ankle injury well, as Savard was inserted into the lineup September 24 for Game 6. With their workhorse returned, Canada won 3-2.

Savard stepped out onto the ice along with his Canadian teammates for Game Seven. It was a strong game for Savard, who earned an assist on Phil Esposito's second goal late in the first period, then collected a second assist on Paul Henderson's game-winning goal late in the third period.

In arguably the most famous game in hockey history, Game Eight was played September 28. The Russians had won three, the Canadians had won three and one game ended in a tie. Serge Savard skated again that night, and with everything on the line, Canada edged the Soviets six to five, with Paul Henderson scoring his third consecutive game-winning goal, this time at 19:26 of the third period. "The highlight of the series was, of course, the final goal by Paul Henderson. I can't begin to describe how filled with emotion we all were when we won that series," Savard says excitedly. Canada hung on to win the game, and the tournament.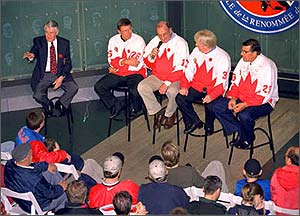 Dick Irvin (far left) hosts one of the many Team Canada - Team of the Century fan forums. The seated foursome on stage are (left to right): Don Awrey, Dennis Hull, Pat Stapleton and Serge Savard.

Savard never played in a losing game for Canada during the eight-game tournament. In his five games played, Canada won four and tied the other. "It was the proudest moment of my life," says Serge, who was a key member of that team. "I had been on Stanley Cup teams but it was nothing quite like winning against the Soviets that year."

In 2000, Team Canada was chosen the Team of the Century by Canadian Press, and was honoured in a special celebration at the Hockey Hall of Fame. Although one member had since died (Bill Goldsworthy), with few exceptions, the remaining members of Team Canada converged to reminisce and be rewarded with commemorative trophies and to participate in the unveiling of a permanent statue just outside the Hockey Hall of Fame.

Serge Savard was on hand to enjoy the celebration. He stated, "I was a member of eight Stanley Cup teams, but this was the greatest experience of my career!" But he added, "I don't think that was the best team I ever played on. That would have to be the '76 Canada Cup team with Bobby Orr. As far as Montreal teams go, the '76-77 team was the best. I thought it was a great team."

Kevin Shea is an author and hockey historian.