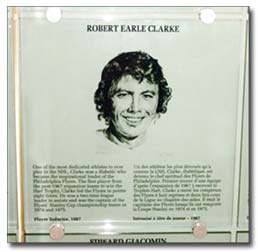 Bobby Clarke's Honoured Member plaque within the Hockey Hall of Fame's Great Hall.

(May 2, 2003) -- Through 15 phenomenal seasons, Bobby Clarke accomplished more than almost any other player of his era. The 1969 draft was very strong, producing talent as accomplished as Rejean Houle, Marc Tardif, Dick Redmond, Andre Dupont, Jim Rutherford and Ivan Boldirev, but only Bobby Clarke, the 17th selection and chosen after each of those listed, took his path to the Hockey Hall of Fame. In fact, Clarke was Philadelphia's second selection that year - Bob Currier was the Flyers' 1st pick, a prospect who never made it to the National Hockey League.

Through 1,144 regular season games, Bobby Clarke scored 1,210 points - 358 goals and 852 assists. He can boast of four All-Star selections, three Hart Trophies as the league's most valuable player, the Lester Pearson Award as the NHLPA's most valuable player, the Selke Trophy as the NHL's best defensive forward,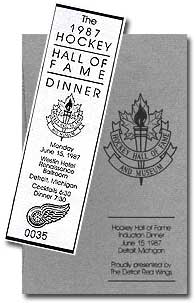 A ticket and program from the 1987 Induction Gala held in Detroit.

and the Masterton for his perseverance and dedication to hockey. Bobby Clarke also captained the Philadelphia Flyers to two Stanley Cup championships, carrying the Cup in 1974 and '75. Although Clarke readily acknowledges the ultimate exhilaration of winning two Stanley Cup championships in Philadelphia, he had a very quick answer when asked to reflect on the pinnacle of his career. "More important than any individual award was going into the Hockey Hall of Fame," stated Clarke. "For me, as an individual player, nothing is as good as going into the Hall of Fame in your own sport. That's so special."

The special night was June 15, 1987. Clarke, along with players Eddie Giacomin and Jacques Laperriere, builder John Ziegler Jr, and referee Matt Pavelich, were inducted to the Hall of Fame at a gala held at the Westin Hotel Renaissance Ballroom in Detroit, Michigan. This was the only Induction ever held outside Canada, but fittingly, just a short drive from former NHL President Ziegler's hometown of Grosse Pointe.

As for Bobby Clarke, a fitting finish to a most remarkable playing career.


Kevin Shea is co-author of several hockey biographies. His most recent book is "Over The Boards - The Ron Ellis Story" (H.B. Fenn), released November 2002.