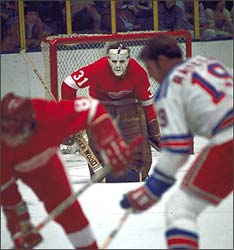 Two days after being claimed off waivers by the Red Wings, Giacomin returned to Madison Square Garden on November 2, 1975 and was given a thunderous ovation by the fans who adored him during his time in New York.

The New York Rangers orchestrated a trade with the St. Louis Blues on June 18, 1975 that allowed them to pick up netminder John Davidson. The Rangers, who had finished second behind the Philadelphia Flyers the previous season in the Patrick Division, pinned their future on the broad shoulders of the 6'3", twenty-two year old netminding prospect. In doing so, the Rangers dumped both of their veteran goaltenders. Gilles Villemure was traded to the Chicago Blackhawks on October 28, 1975 while Ed Giacomin was placed on waivers three days later and immediately claimed by the Detroit Red Wings, who used him as a back-up and mentor to Jim Rutherford, now the general manager of the Carolina Hurricanes.

"It was a pretty cold situation," recalled Giacomin in an interview with Hockey World Magazine in January 1976. "I would say we (he and Rangers GM Emile Francis) talked for about fifteen minutes. There was no one in the rink and I knew something was up when I was told not to go to the airport, but instead to report to Francis at Long Beach." The news was delivered to Giacomin and, after ten seasons on Broadway, he would be out of work. "I could see that they intended to go with Davidson, but I still felt they needed me to help him," Giacomin told the Toronto Star. "They didn't have anybody to help him then but (Doug)Soetart, a rookie." Ed was claimed immediately by the Red Wings and found himself moving to Detroit to start anew at the age of thirty-seven. "My wife and kids didn't come," Eddie continued.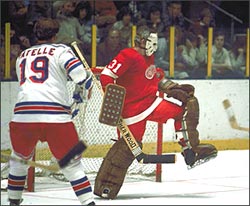 Although relegated to back-up status in Detroit, Giacomin was given the start on November 2, 1975, and the returning hero turned in a fine yet emotional performance as the Wings defeated the Rangers 6-4 that evening.

He started in goal for the Wings against his former teammates on November 2, 1975 in an emotion-filled Madison Square Garden. That night, the New York faithful said 'thank you' to Giacomin for ten superb seasons. "From Friday night until game time to the time they started cheering me in warm-ups, I had a funny idea that after the cheering stopped, I would skate out, shake hands with all the Rangers, thank the fans and then just leave the ice and retire." The cheering continued right through the national anthem and for several minutes afterwards. Ed lost his composure.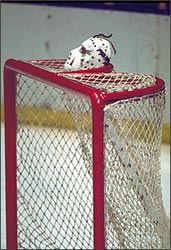 Ed was devastated to learn that his beloved Rangers had placed him on waivers and that he had been claimed by the Red Wings on October 31, 1975. Giacomin played two seasons with the Red Wings before retiring on January 16, 1978.

"I've never been an emotional man but I couldn't hold back the tears," he recalled. "When the people started cheering me at the beginning, the tears came down my face. A couple of times, I thought I would collapse from the emotion." The crowd thundered, 'EDDIE! EDDIE! EDDIE!' for several moments, and every time Giacomin reached up to wipe tears from his eyes, the ovation increased in volume. But even the Rangers' players paid homage to their former colleague. "They were talking to me on the ice, saying things like 'Good luck' and 'Give my best to the family.' One guy even said, 'I'm sorry' after he scored a goal. I'm not going to say who it was — I don't want to get him in trouble," Eddie chuckled.

In his 540th NHL game, just forty-eight hours after being claimed on waivers by the Red Wings, Eddie and his new Detroit teammates defeated the hometown New York Rangers 6-4.

"In a way, the fans game me a night that night," explained Ed. "It was better than if management had given me a night. They showed they knew I had done all I could." Eddie Giacomin leaned back and smiled modestly. "I couldn't hold back my emotions. It was unbelievable!"

"I feel proud that Detroit wanted me, especially with my big contract. I owe them a debt off gratitude."

Kevin Shea is the Manager of Publishing and Editorial Services at the Hockey Hall of Fame.