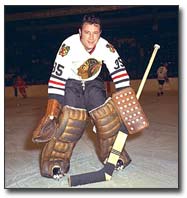 (March 4, 2002) -- It was ironic that Tony Esposito, one of the greatest post-1967 goalies, won a Stanley Cup in his first year in the league, with Montreal, in 1968-69. Although he played another 15 years in the NHL, he never won another. After that first season, Montreal left him exposed in the Intra-League Draft and Chicago claimed him. In his first full season, he played 63 games, led the league with 38 wins, had a meager 2.17 goals against average, and set a modern-day record with 15 shutouts. "It's not a record you can plan," Tony O said in an exclusive interview with hhof.com. "It just happened I was playing with a pretty good team."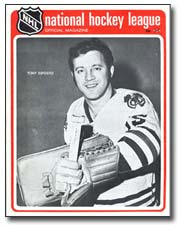 True enough, but he can't deflect the credit so easily. "Another factor, I guess was that I was a different kind of goalie. I played a butterfly style, and no one else did, really. I went down a lot. For me, if I'm screened or I can't see the shot, my instinct is to cover the lower half of the net. I stopped a lot of pucks without seeing them."
Another contributing factor to his burst of success was the fact the he caught with his right hand. "I think Roger Crozier was the only other lefty," he recalled. It made a difference for most players coming in on the goalie to see the glove in the opposite spot to where they expected it. "I suppose it was a bit confusing for them," he admitted.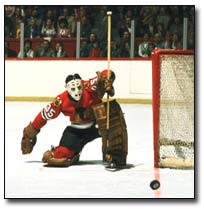 Esposito was also careful about studying his opponents. He knew their tendencies--strengths and weaknesses and could react accordingly. In all, he won 423 games and had 76 career shutouts, a record for goalies of the post-expansion era and seventh all-time behind the greatest names of the crease: Terry Sawchuk (103), George Hainsworth (94), Glenn Hall (84), Jacques Plante (82), Tiny Thompson and Alex Connell (81). Nonetheless, there is always an element of luck to shutouts. "I don't know how many one-goal games I had that year," he recalled, "but I know it was a lot. You never know what's going to happen, a bad bounce, a shot off the post and does it go out or in? I know the year after I played just as well and had a pile of one-goal games but only had a few shutouts (six, to be exact), so you just can't tell."
- Andrew Podnieks is the author of numerous books on hockey including the current The Essential Blue & White Book. He is also a regular contributor to Leafs.com and managing editor of A Day In The Life of the Leafs to be published in the fall of 2002.