(March 16, 2003) -- "My math teacher used to tell us that (singer) Paul Anka made a lot of sacrifices to make it big. Anka was popular and we always used to talk about him. The teacher said I would also have to make sacrifices to be an athlete."

Guy Lafleur was a special athlete. If Maurice Richard was the Canadiens' star of the 1950s and Jean Beliveau the star of the sixties, then Guy Lafleur was most certainly the star of the 1970s. A dynamic performer, he had the ability to raise fans out of their seats as he sailed down the wing, his stylishly long hair flowing with his speed. From the time he was young, he was being groomed to be a star, and to be drafted in 1971 by his favourite team, the Montreal Canadiens, was a dream come to life for Lafleur. Without saying so, becoming the idol of a generation of hockey fans was the pinnacle of Guy Lafleur's career.

"I was nine when I started training. I cleaned pig stalls at a friend's farm and helped get thirty-five cows in for milking every day. I was quite thin, so I did it to get in shape. Later, I started running ten miles a day after working in the fields. I was the only kid doing this. All the kids at school thought I was crazy," laughs Guy. "I was about nine-and-a-half when I started to break out in hockey. I had my name in the town paper a couple of times, so at ten, I was already a little star." Lafleur played three consecutive seasons at the annual PeeWee Tournament in Quebec City, winning the Red Storey Trophy twice as the tournament's most valuable player and leading his Thurso team to back-to-back championships.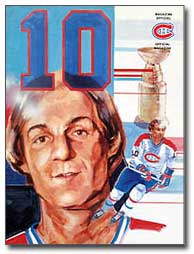 "I moved to Junior A when I was 14. The first year, I cried and wanted to go home. My Dad said, 'You cried to go there, so you won't come back!' I won the scoring championship a couple of times and we won the cup of the league. People like Scotty Bowman and Punch Imlach came to see me play. They told me I had the potential to be professional and I should keep working hard. I was 16 or 17 when I knew I was going to be in hockey forever."

The adulation had started prior to his ascension to the Montreal Canadiens, preparing Lafleur for the incredible glare the spotlight drew during his seasons in red, white and blue. "When you get popularity - if you're number one around town - you're proud of being number one. You're proud of seeing people recognize you, proud of having them come up and talk to you. Most athletes are looking for it - recognition. Not only on the ice, but off it too. But there's a price. You pay for any kind of luxury." Guy seldom had a moment for himself, and even fewer for his family. Marketing people, reporters and fans demanded his every minute. As prepared as he was, the crush of attention was suffocating.

"I want to be me. I'm not trying to do the same thing (Jean) Beliveau did, but he did affect me. I know I have an image in front of the kids and I want it to be a good one. I had an idol and a team to cheer for and they were good. I don't want the kids today to have anything less."

Guy Lafleur wore the mantle of 'superstar' in a city that is obsessed with its hockey heroes. With few exceptions, Guy Lafleur deserved the plaudits of a city, a province, a country and a sport.


Kevin Shea is co-author of several hockey biographies. His most recent book is "Over The Boards - The Ron Ellis Story" (H.B. Fenn), released November 2002.