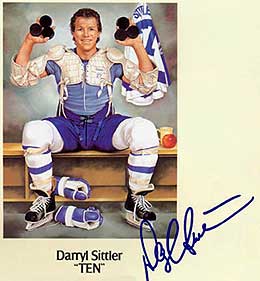 A signed promotional advertisement
of Heather Cooper's print commemorating
Darryl's historic night.

(November 4, 2003) -- Darryl Sittler had an unforgettable game against the Boston Bruins on February 7, 1976. Some 28 years later, it is unlikely Darryl can go a single day without being reminded of his extraordinary accomplishment. On that evening, playing at home in Maple Leaf Gardens, Sittler collected ten points in an 11-4 steamrolling over the Boston Bruins.

"It was quite a hectic day for my mother and father because they watched a lot of hockey games," Sittler told John Iaboni of the Toronto Sun. Doris and Ken Sittler watched two of Darryl's brothers and two nephews lose their minor hockey games that afternoon. Then, they got a call from Darryl. "Greg Hubick had an extra pair of tickets because his wife wasn't going. So I called my Dad that afternoon." The Sittlers drove in from their home in St. Jacob's for the game that evening, and with hindsight being 20/20, were delighted they did.

It was a remarkably ordinary day for Darryl, as he recounted in his autobiography, 'Sittler.' "I went through my normal pre-game routine that Saturday -- morning skate, return home for a meal between one and two o'clock in the afternoon, and then a two-hour nap. The exception was my pre-game meal. Instead of the usual pasta, I bought some Swiss Chalet barbecued chicken. I left home at about 5:15 and was at the rink at six o'clock or so."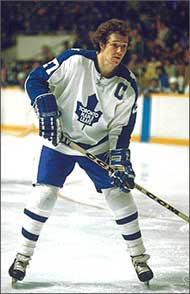 Gilles Gilbert, the Bruins' number one netminder, was injured. The Bruins had re-acquired all-star goalie Gerry Cheevers, and February 7, 1976 was his first game in a Bruins' sweater since the team won the Stanley Cup in the Spring of 1972. But Boston coach Don Cherry realized Cheevers was rusty, and went with little-used Dave Reece in goal that night.

Darryl Sittler collected two assists in the first period. In the second, he earned three goals and added two more assists. With seven points in two periods, the Leaf captain was told that he was one point away from tying the NHL record. Ordinarily, Darryl played without his upper plate, but going into the third period, inserted his teeth in the case that he might achieve the record. In the final period, Darryl scored three more goals. "My sixth goal was one of those 'when you're hot, you're hot' efforts," Darryl shrugged in a conversation with The Hockey News. "I tried a pass-out from behind the net. It struck two skates of Boston players and went in." Thank goodness his teeth went in, too!

"It was a night when every time I had the puck, something seemed to happen," he told The Hockey News. "In other games, you work just as hard and come up empty."

But there were oddities tied to Number 27's remarkable game, as Darryl outlined in 'Sittler.' "All the numbers were positive for me that night. We were playing on the seventh day of the second month, the Bruins were on a seven-game winning streak and we were in second place. The game started at 8:07 and officially ended at 10:27pm. I scored my first hat trick at the 10:27 mark of the second period and my ninth point at 9:27 of the third. Just coincidence, right? You'll never convince me."

Sittler enjoyed the greatest single game performance in NHL history, breaking two NHL records, tying another and breaking four Maple Leaf marks. Darryl's ten points broke the NHL mark of eight, held by Rocket Richard (1944) and Bert Olmstead (1954). No NHL player had ever scored hat tricks in two consecutive periods. Sittler's 5 points in one period tied a record held by Max Bentley (Chicago), Les Cunningham (Chicago) and Leo Labine (Boston). The Toronto records were established for most goals and most points in a game, most points in a period plus the hat tricks in back-to-back periods.

"The thing I'll remember most about it is the ovation the fans gave me when I got my ninth point. That's something you just never forget!"
| | |
| --- | --- |
| | |
| The game summary of Darryl's 10-point night in the February 20, 1976 Hockey News. | The cover of the February 20, 1976 Hockey News with Sittler's achievement earning top billing. |
Kevin Shea is a hockey journalist in Toronto.