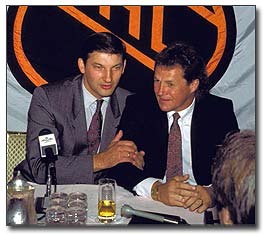 Vladislav Tretiak's hockey pinnacle was his induction into the Hockey Hall of Fame in 1989. Fellow '89 Inductee Darryl Sittler (right) joins Tretiak at the press conference.

(May 18, 2004) -- In his book 'The Habs - An Oral History of the Montreal Canadiens, 1940-1980,' author Dick Irvin states, 'The famed New Year's Eve game was the one that put Soviet goaltender Vladislav Tretiak into our Hockey Hall of Fame.'

Although in the strictest sense, that statement is not entirely true, the legendary 3-3 tie between the Soviet Red Army and the Montreal Canadiens on December 31, 1975 is regarded by many as the greatest hockey game ever played. The Canadiens outplayed the Soviets decisively, and outshot them 38 to 13, yet could only manage a three-all tie in large part due to the extraordinary goaltending of Vladislav Tretiak.

But Tretiak had shown himself a fierce competitor before that game, including as a previously unheralded netminder who, with his teammates, shocked Team Canada in 1972 at the eight-game Summit Series.

On October 3, 1989, Vladislav Tretiak was inducted into the Hockey Hall of Fame. Joining him that evening were former Detroit star Herbie Lewis, Maple Leaf great Darryl Sittler and builders Father David Bauer and Alan Eagleson.

"It is an honour for me and my country for a player who has never played in the NHL to be made a member of the Hall of Fame," Tretiak said with the assistance of an interpreter. "In my sports life, it is the highest honour I have ever had."

Tretiak was a first all-star in the Soviet Elite League fourteen consecutive seasons and helped lead the Red Army club to thirteen straight league titles. He was named his country's outstanding player five times and three times was selected as the best European player.

Tretiak was the first non-North American trained player to be inducted into the Hockey Hall of Fame. "It was front page news (in Moscow) when it was announced," Tretiak beamed. "Maybe now that Soviet players are coming to the NHL, their (the selection committee's) eyes will be opened and they will have some European players."

"Boys who participate in hockey learn valuable lessons which can help them in other fields, he concluded. "They learn nobility and chivalry, tenacity and courage."
| | |
| --- | --- |
| Tretiak makes his acceptance speech during the 1989 Induction Ceremony at the Metro Convention Centre in Toronto. | The Montreal Canadiens surprised the NHL by making Tretiak their ninth pick in the 1983 Entry Draft, where he would have teamed with Guy Lafleur (right) amongst others. The Habs, however, were unable to secure Tretiak's release at that time. |
Kevin Shea is the Hockey Hall of Fame's Manager of Special Projects and Publishing.