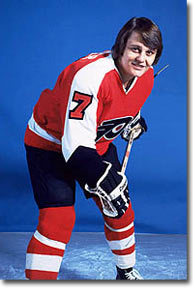 Like Billy Smith, Bill Barber rates his hockey pinnacle as being afforded the opportunity to play in the NHL. Barber averaged 35 goals per season over his illustrious 12-year NHL career.

(February 24, 2004) -- It's become a common question posed to Honoured Members of the Hockey Hall of Fame - 'What is the highlight of your distinguished career?' A few can pinpoint one occasion of which they are more proud than a handful of others, but most are unable to isolate a single pinnacle among so many career highlights.

Bill Barber is another Honoured Member unable, or unwilling, to name one moment to place in the spotlight. "I could throw in a handful," admits the Callander, Ontario native. "My dream was to play in the National Hockey League. Then, I had the opportunity to win the Stanley Cup twice. I'll be honest -- I enjoyed the second Stanley Cup far better than the first because by then, you figure it out. You know what's going on and how to prepare yourself, how to control your emotions and how not to burn up energy that is not needed. That is a tough thing to learn."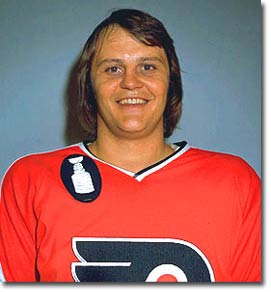 A beaming Bill Barber sports his Stanley Cup patch on his Philadelphia Flyers jersey.

Bill pauses, then adds a few more highlights. "Obviously, I could name being elected to the Hockey Hall of Fame. Having the opportunity to win the Calder Cup (the championship trophy in the American Hockey League) as a coach was a highlight. Winning the Jack Adams Award as coach of the year in the National Hockey League was fantastic. These are memories and thoughts that run through my head that make me realize how lucky I really was to have the opportunity to even experience it. But I'll go back to just playing in the National Hockey League. It is every Canadian boy's dream to play in the NHL. I was one of those boys."




Kevin Shea is the Hockey Hall of Fame's Manager, Special Projects and Publishing.