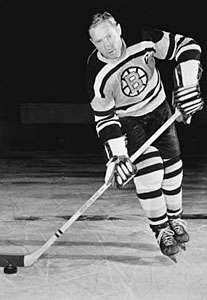 Throughout his 15-season NHL career, Flaman was known as one of the game's top stay-at-home defensemen as well as one the league's most feared open-ice bodycheckers. (Hockey Hall of Fame)

Fern Flaman's spectacular play did not translate to the scoring sheet. Through his 15-season NHL career, he only scored 34 goals and collected just 208 points. So, 29 years after he played his final game in the National Hockey League, it was an extraordinary surprise for Flaman to be told he had been selected for induction into the Hockey Hall of Fame in the Veterans' Category.

Fern Flaman played with an intensity that helped lead the Boston Bruins to the Stanley Cup final against the Montreal Canadiens in both 1957 and 1958. Although unsuccessful, the run to the Cup marked a high-water point for the Bruins that wouldn't be matched or eclipsed until the Bobby Orr/Phil Esposito era of the late-1960s and early-1970s. In both seasons, Fern was also elected to the National Hockey League's Second All-Star Team.

The Bruins' captain from 1955-1961, Flaman cleared the front of the net for his goaltenders, protected the defensive zone with staggering open-ice bodychecks and, when the occasion called for it, was a feared fighter; one of the best in the league.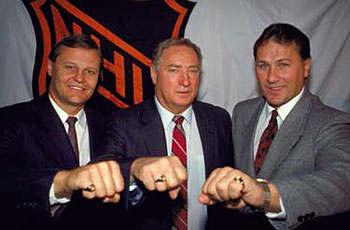 Picutred with fellow inductees Bill Barber (L) and Gilbert Perreault (R), Fern Flaman was inducted into the Hockey Hall of Fame
in 1990 as a veteran player. (Doug MacLellan/HHOF)

A hero in Boston, he was largely unsung elsewhere through an era that included the best years of Gordie Howe and Maurice Richard, although there wasn't an opponent in the league who would tell you that they didn't appreciate what Flaman brought to the Bruins.

In 1988, the Hockey Hall of Fame added a 'veteran player category' in order to provide a vehicle for players "who may have been overlooked and whose chances for election would be limited when placed on the same ballot with contemporary players." Eleven players were inducted into the Veterans' category, which was eliminated by the HHOF Board of Directors in 2000. Those inductees are now considered to be in the player category.

Fern Flaman, a veteran of both the Boston Bruins and Toronto Maple Leafs, may not have lit up the scoresheet, but to those who experienced his play and leadership from the blueline recognized Flaman by inducting him into the Hockey Hall of Fame in the now defunct Veterans' Category in 1990, the pinnacle of his superb career.

Kevin Shea is the Editor of Publications and Online Features for the Hockey Hall of Fame.