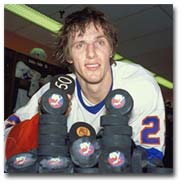 (November 9, 2001) -- Although Mike Bossy won four Stanley Cups with the New York Islanders and scored 50 goals in a season nine times in succession, likely his greatest personal achievement came the night of January 24, 1981 when he scored his 50th goal in his 50th game with less than three minutes remaining in the game. It marked only the second time in NHL history that the 50-in-50 had been reached, the first coming on the final day of the 1944-45 season when Maurice Richard made history by beating Harvey Bennett of the Boston Bruins. Bossy's goal came against Ron Grahame in a 7-3 Islanders win at home against the Quebec Nordiques. It was his 223rd career goal in just his 278th game, a phenomenal pace he kept up his entire career.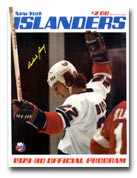 Bossy was never to come close to reaching this 50-in-50 milestone again. In his previous three 50-goal seasons, he scored the half-century marker in game number 69, 58, and 68. After 1980-81, he achieved the mark in games 66, 70, 67, 61, and 67. "The hardest part," he said of his race to the record, "was never being able to be satisfied with what I had accomplished in any one game. I always had another game to go on to."
True enough, in an 80-game season in a 21-team league, there were no respites from travel or the pressures of media or the expectations of fans.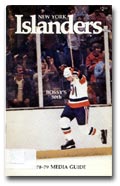 "There were times," Bossy explains," when I had a couple of three-goal games, but I didn't have time to savour them because you had to go out the next night and stay on pace. It was a constant whirlwind." Additionally, hockey is a team game, and although Bossy was chasing a personal record, his team was trying to remain consistent in its run for a second Stanley Cup. Team wins over-ride individual goals.
The key to Bossy's scoring success was not so much an accurate shot as getting the puck on net as quickly as possible. "I think a quick release is more important than aiming the puck," he reveals. "I always figured it was harder for a goalie to stop what he wasn't expecting than for me to look for a particular hole. Besides, in the NHL you almost never get the chance to pick a particular spot." It was a philosophy that worked for one of the greatest, most consistent goal-scorers in the history of the NHL.