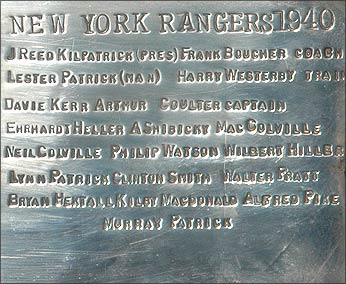 Third row from the bottom, the name "Clinton Smith"

The New York Rangers joined the National Hockey League in 1926-27, and in just their second season of existence, won the Stanley Cup. The Rangers won the Cup again in 1933. In 1939-40, the Rangers finished second overall. Facing the defending Stanley Cup champion Boston Bruins, who had finished the season in first place, Clint Smith scored a goal and added two assists in the semi-final to help propel the Rangers into the Stanley Cup Final against the Toronto Maple Leafs.

The Rangers took Game One with an overtime win on a goal by Alf Pike, then dumped the Leafs 6-2 in Game Two. Both contests were played in New York. But because the circus had been booked into Madison Square Garden, any remaining games were scheduled to be played in Toronto.

The Leafs won Game Three by a score of 2-1, then blanked New York 3-0 in Game Four. Clint earned a rare minor penalty in the second period of that contest. New York edged Toronto in Game Five with a dramatic goal scored by Muzz Patrick at 11:43 of the second overtime period.

Smith played the series at centre with Kilby MacDonald, that season's rookie of the year, as well as Lynn Patrick. The trio had a strong series but was on the ice when Toronto scored the opening goal of Game Six. A second Leaf goal put the Rangers in a hole, but Neil Colville scored in the third followed quickly by a goal from Alf Pike which was assisted by Clint. Tied at two, the game went into overtime but was resolved quickly. Bryan Hextall scored at 2:07 of the extra frame to give the New York Rangers the Stanley Cup championship!

The Rangers, who won the championship at Maple Leaf Gardens, took the Stanley Cup to a nearby restaurant to celebrate. A Toronto fan tried to steal the Cup from the exuberant Rangers but was caught in the process. The team continued the party at the Royal York Hotel where they had been staying, then took the train back to New York the next day.

Times were different, and there was neither a tickertape parade down Broadway nor Stanley Cup rings for the players. "The fans gave us a big ovation the next year," Smith recalls. "And management gave each of us a gold watch. It was worth $30. At that time, gold was worth $30 an ounce."

Looking back, Clint Smith cites the 1940 Stanley Cup win as the pinnacle of his career. He still follows the team with which he made his National Hockey League debut, and hopes to see the boys win another championship for the franchise.

"Once a Ranger, always a Ranger," he laughs, adding a wink.

Kevin Shea is the Hockey Hall of Fame's Editor of Publications and Online Features.