(January 10, 2003) -- Marcel Dionne enjoyed a brilliant NHL career. He won the Art Ross Trophy as scoring champion in 1980, and that same season, was selected as the players' most valuable player, winning the Lester B. Pearson Award for the second straight season. Marcel was also named to the NHL's First All-Star Team for a second time in 1980.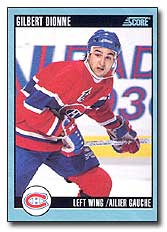 Marcel's brother Gilbert.

Through his career, he finished in the Top 10 scorers eight times, topped the 100-point total eight times and bested the 40-goal mark on 10 occasions. When he retired, his 1,771 career points was third, behind only Wayne Gretzky and Gordie Howe. Dionne was named the best forward while representing Canada at the World Championships in 1978. Even as a junior, Marcel excelled, leading the OHA in scoring twice and collecting 100 or more points in all three of his junior seasons. So with a career as exceptional; as extraordinary as that of Marcel Dionne, it is nearly impossible to select the pinnacle of his brilliant career. Yet, when asked, Marcel Dionne had a very quick response.

"The ultimate hockey moment didn't even involve me. It was watching my younger brother win the Stanley Cup. Absolutely. By far. There were a lot of things that were great in my career, like going in the Hockey Hall of Fame and winning the Art Ross,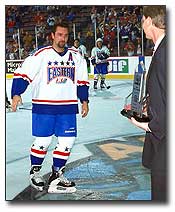 Perennial minor-league all-star Gilbert Dionne receiving player-of-the-game honours.

but watching my young brother win the Stanley Cup was the best. You look back and think, 'Hey, that was great.'"
Gilbert Dionne was born in 1970 - about the time older brother Marcel was preparing for his final junior season. You see, Marcel is 19 years older than Gilbert. But in spite of his older brother's incredible achievements, Gilbert Dionne has done something Marcel never had the opportunity to do, and that was to win the Stanley Cup. "What I accomplished individually was great, although we weren't as successful collectively with my teammates. I played with some great, great players and it wasn't our fault that we were put in those situations, but watching him (Gilbert) win the Stanley Cup was the highlight of my career."
Gilbert Dionne played six NHL seasons, starting with the Montreal Canadiens in 1990-91 where he earned a berth on the NHL All-Rookie Team in 1992, before moving to Philadelphia in February 1995 and finishing with five games as a Panther in 1996. The left winger collected 140 points in 223 games, and won the Stanley Cup with Montreal in 1992-93.

Kevin Shea is co-author of several hockey biographies. His most recent book is "Over The Boards - The Ron Ellis Story" (H.B. Fenn), released November 2002.