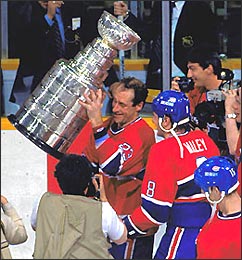 Montreal captain Bob Gainey accepted the Stanley Cup on behalf of his teammates in 1986. It was the twenty-third championship for the Canadiens -- more than any other NHL team.

The Montreal Canadiens teams of the 1970s were, purely and simply, spectacular. The franchise's dynasty decade included Stanley Cup championships in 1971, 1973, 1976, 1977, 1978 and 1979. "Being part of that team in the seventies was so good that we needed to win," suggests Hall of Fame winger, Bob Gainey. But then the run stopped. In 1980, '81 and '82, the Canadiens finished first in their division, but were quickly eliminated in the playoffs. The team slipped to second place in 1983, and then stalled in '84, falling to fourth in the Adams. In 1985, they bounced back, finishing first in the competitive division, but lost in the division final. "After '79, we faltered and some of our competitors were gaining ground on us," Gainey states.

In 1985-86, the team finished with a 40-33-7 record; good for second place in the Adams Division. Bob Gainey scored 20 goals, reaching that plateau for the fourth and final time in his career. His 43 points stood him seventh in team scoring that season. But the team took off. Buoyed by the exceptional play of rookie netminder Patrick Roy, the Canadiens emerged as finalists for the Stanley Cup, facing the powerful Calgary Flames. It took just five games, including a 1-0 shutout in Game Four, for the Montreal Canadiens to emerge triumphant once again. The Montreal Canadiens had won the Stanley Cup for the twenty-third time. Bob Gainey concludes, explaining why the victory is considered the pinnacle of his illustrious career, "We went through some lean years and then Montreal won the championship in 1986. I was captain of the team. That was very, very rewarding." His sentiments were echoed by fellow Honoured Member Larry Robinson, who stated back in 1986 — "I've been waiting seven years for this. You'd have to say that this one is more special than the others since I'm not exactly at the peak of my career."

Said Montreal coach Ron Caron following the Cup victory, "Gainey has given me as much as you can expect from any human being in pro sports. I saw him first (Caron had scouted Gainey back in 1973) and then I told Claude Ruel that you're going to see a guy you'll be interested in. People basically laughed at us when we drafted him. They said he'll never score. We were the laugh of the draft for half a year. We obviously had the last laugh."
| | | |
| --- | --- | --- |
| | | |
| The Canadiens of 1986 boasted 110-point scorer Mats Naslund, 30-goal scorers Bobby Smith and Kjell Dahlin as well as 20-goal collectors Guy Carbonneau, Stephane Richer and Bob Gainey. Larry Robinson and Chris Chelios anchored a strong Montreal defense. Rookie netminder Patrick Roy was spectacular, too! | | Veterans Bob Gainey and Larry Robinson led the bleu, blanc et rouge to the Stanley Cup in 1986. It was a special time, as neither would win another championship as a player. |
Kevin Shea is the Hockey Hall of Fame's Manager of Special Projects and Publishing.