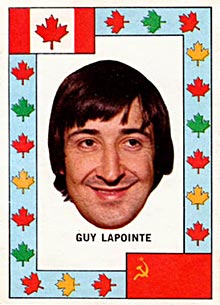 It surprised no one more than Guy himself when he was selected to Team Canada's squad in 1972 after having played just two full seasons. Lapointe played in seven of the eight games and was an integral part of the squad that in 1999 was named 'Team of the Century' by Canadian Press.

Anchoring a blueline with fellow Hall of Famers Larry Robinson and Serge Savard, Guy Lapointe contributed considerably to the Montreal Canadiens' dynasty of the seventies. Lapointe was part of six Stanley Cup championships in his hometown. Yet, when asked to name the pinnacle of his playing career, Lapointe caught us by surprise. "The first Stanley Cup was very special but what comes to mind was to have the chance to play in the '72 Series."

Lapointe was a veteran of just two full-time NHL seasons when he was asked to attend the training camp for Team Canada in the summer of 1972. Yet, they were outstanding rookie and sophomore seasons, contributing 44 and 49 points respectively to the Canadiens. "I was just beginning to find my way around the NHL and I was trying to learn all the tricks of the trade," Guy admits. "When I arrived at the Team Canada training camp, I was in awe of all the great names there. Me, I kept wondering, 'Why Guy Lapointe? Why not some more experienced guy?'"

"I wasn't worrying too much about embarrassing myself against the Soviets because we'd all been told they weren't a first-rate team to begin with," Lapointe continues. "I was more worried about looking bad in the scrimmages, trying to stop the best players in the NHL!"

Guy reflects back on that series in September 1972. "We all know what happened," he starts. "The Soviet players were much stronger, faster and more skilful than we ever imagined. They took us by surprise at the Montreal Forum and really made us look bad."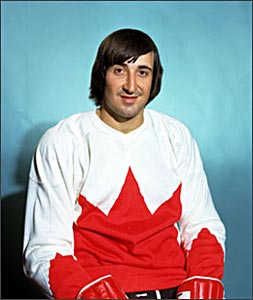 Canada won Game Two, tied Game Three but lost both Games One and Four in Canada. Guy recalls how effective Team Canada was in the final four games, stating "I guess they didn't realize how determined we were, how hard we'd worked on our conditioning and how much better prepared we were when the second half of the series got underway in Moscow."

After the opening game debacle, Lapointe was paired with teammate Serge Savard for Game Two, and the duo made a formidable pairing. Canada won Game Two and tied Game Three, but Savard suffered a hairline fracture in his ankle that morning and Lapointe was unable to play in Game Four. "I got banged around a lot and didn't feel ready to play in Game Four in Vancouver," Lapointe sneers. Canada lost in Vancouver and the boos rained down on the players. "That was the game when the fans really gave it to us and Phil (Esposito) went out and told them what he thought of everything." It was the turning point in the series.

Guy Lapointe missed but the one game. In Game Five, the Soviets edged Team Canada 5-4, with Guy picking up an assist on Canada's third goal, a tally by Series hero Paul Henderson.

Game Six reversed Canada's fortunes, with a 3-2 win over the USSR. In Game Seven, Canada again won on a late goal by Paul Henderson to give them a 4-3 win. Then, as has been well chronicled, Team Canada won the eighth and final game in the historic tournament, with Paul Henderson scoring the winner at 19:26 of the third to give his team a 6-5 win and the championship.

"We were favourites against the Soviets and winning that series was something very special," states Lapointe. "For me, even though I had a good first year (with Montreal in 1970-71), that series gave me the push to start and have a great career."

Kevin Shea is the Hockey Hall of Fame's Manager of Publishing and Editorial Services.