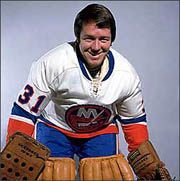 Billy Smith's hockey pinnacle
was having the opportunity to
play in the NHL.

(January 27, 2004) -- The peaks were high and there weren't many valleys throughout the spectacular career of Billy Smith. The netminder backstopped the New York Islanders to four consecutive Stanley Cup championships between 1979-80 and 1982-83. During that period, Billy was the NHL's First Team All-Star in 1982; the same season he won the Vezina Trophy as the league's best goalie. In 1983, Smith and crease colleague Rollie Melanson shared the William Jennings Trophy for the best goals against average in the NHL. During the playoffs that spring, Billy collected the Conn Smythe Trophy too, emblematic of the playoffs' most valuable player.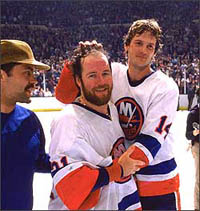 A satisfied and delighted Billy Smith
is congratulated by teammate Bob
Bourne following the Islanders'
Stanley Cup victory.

Billy Smith was asked to isolate the single most important event in his career and took no time to answer, "The pinnacle of my whole career was just getting to play in the NHL," Smith responded without hesitation. "As a kid growing up, I never expected to play in the NHL. In my first year in Springfield in the American Hockey League, I was fortunate enough to win the Calder Trophy (as AHL playoff champions). At that time, I thought that was going to be the biggest thing in my life. I never had my eyes set on playing in the NHL. The only thing I wanted to do was play the game. I did it and I was very fortunate to play in the NHL. Growing up, I never thought that this was what I was going to do. You put down the three wishes of what you'd like to do when you grow up. That was it for me -- play hockey. I was one of the few fortunate ones to be able to do it."

In 1993, Billy Smith became an Honoured Member of the Hockey Hall of Fame.

Kevin Shea is the Hockey Hall of Fame's Manager, Special Projects and Publishing. His next book, 'Barilko - Without A Trace,' will be published in October 2004 by H.B. Fenn.