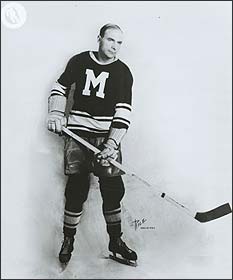 It appeared that the world was Lionel Conacher's oyster in 1925-26. After excelling as an amateur, Lionel turned pro with the Pittsburgh Pirates that year and had a fine rookie season. But early in the 1926-27 season, Conacher was traded to the New York Americans.

The Americans were a fun-loving, hard-living group, and Lionel was certainly no exception. The escapades became legendary within hockey circles. "There was the time the Americans were training at New Haven, Connecticut in 1928," wrote Dick Beddoes, Stan Fischler and Ira Gitler in 'Hockey! The Story of the World's Fastest Sport.' "Their quarters were in the Garde Hotel, a hostel that the Americans' manager, Thomas Patrick (Tommy) Gorman, nearly saw destroyed before his eyes. 'One night,' Gorman later recalled, 'Lionel Conacher was playing cards in a room with Billy Burch and others. All of a sudden, Red Green threw an apple core and hit Conacher in the eye. Lionel leaped from his chair and chased Red down a hall. Green slammed a door behind him at the end of the hall only to have big Conacher draw back and make a shoulder lunge at the closed door. Conny missed the door but he crashed into the wall so hard that some of the back section of the building actually collapsed -- with Conacher and Green beneath it. It cost the hockey club $500.'"

After four seasons with the Americans, including the 1929-30 season when Conacher acted as the team's playing-coach, Lionel was traded to the Montreal Maroons in 1930, and there seemed little doubt that alcohol played a significant role in the transaction. And during that first season as a Maroon, it appeared that Lionel Conacher was through being a hockey player. He was placed on waivers and the Maroons found no takers for the big defenseman.

Conacher suddenly realized that his hockey career, income and family, were finished unless he could find the strength to overcome his drinking. When his daughter Constance, his first-born, was born on November 25, 1930 at Toronto's Wellesley Hospital, Lionel promised his wife that from then on, "things would be different." Rather than move from New York to Montreal, they located the family home in Toronto in order to be close to both families.

"It was in 1930 that I experienced my hardest battle as an athlete," admitted Lionel. "At that time, I had been in the National Hockey League for four years, only to find myself an unwanted veteran with the Montreal Maroons who were trying, unsuccessfully, to waive me out of the league. I promptly decided to quit drinking, and it was the training of many grueling years in sports, making the old willpower say 'Uncle,' that stood me in good stead. I've never touched a drink from that day to this."

Journalist Andy O'Brien recalled, "I used to watch him drink nine Cokes and eat a box of chocolates before going to bed, but he licked the craving (for alcohol)."

But just as he was wrestling with his alcoholism, Conacher contracted pneumonia, then, was hospitalized in order to have a 'painful growth' removed. Lionel did whatever it took to keep from returning to alcohol -- drank soft drinks, pots of tea, became a pipe smoker, played golf or went to movies.

Returning to the Maroons, Lionel asked for a second chance and was granted a reprieve, on condition that he continued abstaining from alcohol. Conacher began a rigorous training regimen as well.

"The season 1931-32 found me traveling along the comeback trail and you can imagine the satisfaction I felt when at the end of the season, I was awarded the trophy awarded by vote to the player most valuable to his team," stated Lionel in a September 1, 1936 interview with Maclean's magazine. "Then came two Stanley Cups in a row with different teams. It was a tough fight. I'm telling you, getting out of the broken-down, has-been rut, and none realize the job it was better than myself."

Lionel Conacher re-invented himself and in 1933-34, after a trade to Chicago, Lionel helped the Black Hawks win the Stanley Cup. In the process, he was named to the NHL's First All-Star Team and was runner-up to Aurele Joliat for the Hart Trophy as the league's most valuable player. When the club's general manager, Tommy Gorman, was named GM of the Maroons, he orchestrated a trade that saw Conacher return to Montreal. The two won their second consecutive Stanley Cup championship in 1935.

For a player whose lifestyle had all but ruined a terrific career, Lionel Conacher had the strength and resolve to save not only his career but his family. Twice the runner-up for the Hart Trophy, twice a Second Team All-Star and once selected to the First Team and twice a Stanley Cup champion, Lionel Conacher enjoyed a tremendous 12-year-career that eventually, and posthumously, led to his induction in the Hockey Hall of Fame.

Kevin Shea is the Hockey Hall of Fame's Manager of Publishing and Editorial Services.