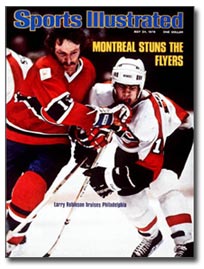 The May, 24th, 1976 Sports
Illustrated edition featuring Larry Robinson on its cover.

(March 21, 2003) -- When Larry Robinson was asked to select the personal highlight from an extraordinary career, he bypassed his first Stanley Cup championship, declined to choose one of his two Norris Trophy selections, made no mention of his three First Team All-Star selections or his Conn Smythe Trophy win as playoff MVP. "I go back to 1976 when we beat the Flyers in the finals," smiles Larry.

Philadelphia had won the Stanley Cup the two previous springs, and as defending Stanley Cup champions, were hungry to collect a third championship. Larry Robinson had sipped champagne from the Stanley Cup as a rookie, and was thirsty for another taste of the 'champion's nectar.' Robinson remembers, "We only lost 11 games during the regular season. It was a tremendous year." The Canadiens finished the regular season first overall with 127 points. The Flyers had collected 118 points during the season; good for second place overall. Guy Lafleur was the NHL's leading scorer that year but Philadelphia's Bobby Clarke finished right behind him in second place.

The Canadiens eliminated Chicago in four games and the New York Islanders in five to earn their spot in the Stanley Cup final that year. The Flyers on the other hand, had endured a seven game playoff against Toronto, followed by another tough series against the Boston Bruins. The Flyers had earned their place in the final, but it had come with a physical toll.

"Holy Mackerel, that was the time of the Broad Street Bullies and I felt personally as though the whole league was looking at us to beat these guys," recalls Larry. "They were beating up on everybody but they had a pretty good team, too."

In game one, the Canadiens edged Philadelphia 4-3. Two nights later, again in Montreal, the hometown Canadiens won 2-1. For games three and four, the teams traveled to Philadelphia. "They brought in Kate Smith to sing 'God Bless America' before each game in Philadelphia," says Robinson. But the ploy had little impact. Montreal took game three 3-2 and finished off the Flyers with a 5-3 win on May 16, 1976 to win the second Stanley Cup championship of Larry Robinson's career. Admits Robinson, "To me, that series was quite a highlight!"

Kevin Shea is co-author of several hockey biographies. His most recent book is "Over The Boards - The Ron Ellis Story" (H.B. Fenn), released November 2002.