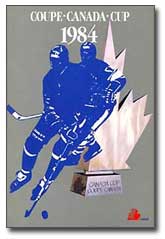 -- 1984 CANADA CUP --
(November 1, 2002) -- During 15 years in the NHL, there were a lot of highlights for Michel Goulet -- five selections to either the First or Second All-Star Team, four consecutive 50+ goal seasons, three times finishing in the top ten scoring race. "When you look at it, it was such a blessing to play that long, and there were a lot of good times," states Michel Goulet.
But to isolate the pinnacle of his NHL career, Michel Goulet reflects back to 1984.
The Canada Cup that year introduced West Germany, replacing Finland in the tournament. The round-robin finished with Canada winning two, losing two and tying one for fourth place behind the Soviet Union, the United States and Sweden.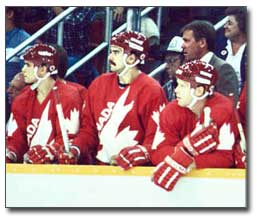 Michel Goulet is flanked by Steve Yzerman (left) and Randy Gregg as they look on from the Team Canada Bench.

But Canada came on strong in the semi-finals, defeating the Soviets 3-2 on an overtime goal by Mike Bossy. Sweden, in the meantime, drubbed the United States 9-2 to set up a final that featured Canada and Sweden.

The 1984 Canada Cup finals was a best of three series, but only two games were needed to decide the winner. Canada won the opener 5-2, then took the second game 6-5 to win the Canada Cup in 1984.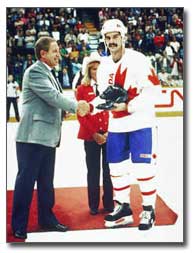 Michel Goulet is presented the Player of the Game Award against Team Sweden in Game One
of the Final.

Team Canada had just five players selected who had played on the previous Canada Cup in 1981. Michel Goulet was one of the many new faces on the Canadian team. Wearing Number 15, Goulet had a great tournament. "I thought it was probably the best hockey I played in my career," admits Goulet. "The Canada Cup in '84 gave me the chance to play with Wayne Gretzky and Rick Middleton."

Goulet finished the eight-game tournament with five goals and six assists for 11 points; good for second place behind linemate Gretzky who collected 12. His five goals tied him with Gretzky and placed them fourth overall, behind Thomas Steen of Sweden who potted seven and both Hakan Loob of Sweden and Sergei Makarov of the Soviets who finished with six. Goulet's six assists were good for fourth place as well, just behind Paul Coffey of Canada and Kent Nilsson from Sweden who had eight, and Gretzky who finished with seven.

"Playing with Wayne helped a lot but we were also playing against the best in the world. It was a tremendous time for me," beams Michel Goulet, recounting the pinnacle of his playing career.

Kevin Shea is co-author of several hockey biographies. His most recent book is "Over The Boards - The Ron Ellis Story" (H.B. Fenn), released November 2002.